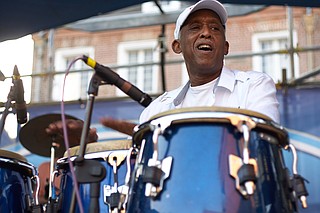 Hitting the "big 1-0" is a significant milestone for any annual event, which is why Raphael Semmes and Tripp Douglas wanted to do something spectacular for the 10th anniversary of the Township Jazz Festival, which takes place Saturday, April 8, in the Township at Colony Park in Ridgeland.
Before launching the festival in 2007, Semmes, who won Best Jazz Artist in this year's Best of Jackson, and Douglas, who owns Fusion Coffeehouse in Ridgeland, had been hosting the monthly Fusion Jazz Series for about three years. They wanted to hold a larger-scale event in the green space in front of the coffee shop, celebrating jazz in the Jackson area. They also wanted to make the event free to allow more people to experience and be moved by the music.
"There are a couple things that are of great import to us on this festival," Semmes says. "(One) is that it's free to the public so that everybody can come, whether it's a jazz aficionado or an aspiring junior-high jazz student or anyone in between."
A decade later, the duo says it is still committed to the festival's founding tenets, even as it has grown in scope. More than 2,000 people attended last year, doubling the number from the inaugural event.
"That was one of the things that was a great problem to have last year," Douglas says. "At the peak time of the afternoon, it started getting very crowded in there, which was great. We were excited about that. So we're looking at ways to expand not only the festival area but also the viewing area."
For the latest iteration of the festival, the music lineup is expanding, as well. Saturday's proceedings will feature local favorites such as The Vamps, The Musicians, Semmes' own ensemble and Southern Komfort Brass Band, as well as groups from schools around the state, including the Murrah High School Jazz Band, the Jackson State University Jazz Ensemble and the University of Southern Mississippi's Jazztet.
Audiences can also catch two renowned New Orleans-native headliners, Astral Project and Bill Summers & Jazalsa. Astral Project has been a fixture of the New Orleans Jazz & Heritage Festival since the band formed in 1978, and Summers is an Afro-Cuban and Latin jazz percussionist who has worked with legends such as Herbie Hancock and Quincy Jones.
After a decade of hosting the event, Semmes and Douglas say one of the most enjoyable parts of the Township Jazz Festival for them—besides the music, of course—is being able to take a step back and watch people from all walks of life come together and share an experience.
"You look out there throughout the day at the festival, and you see this just fantastic example of diversity in every way," Douglas says. "I mean, you have racial diversity, age diversity, high-school kids and college kids out there, all the way up to senior citizens, all coming out to enjoy the same music. I think that's something so unique about jazz as an art form. It truly crosses all the divides, more than any other type of music that I can think of, to bring people together."
The 10th annual Township Jazz Festival is from 11 a.m. to 7 p.m., Saturday, April 8, next to Fusion Coffeehouse (1111 Highland Colony Pkwy., Ridgeland). For more information, visit townshipjazzfestival.com.