Soon, the Gulf South Conference will honor one of the greatest women's basketball players in Delta State University history, Amy Carroll-Denley, who is among five new inductees in the 2017 GSC Hall of Fame class.
Carroll-Denley was a three-year starter at Delta State and helped the Statesmen to three Division II National Championships in 1989, 1990 and 1992. She is the only female student-athlete in the history of DSU to win three titles.
During her 131 games, which is still third most in school history, she scored 836 points, 375 rebounds and 310 assists, averaging 6.2 points, 2.9 rebounds and 2.4 assists per game. She also shot with a 72-percent success rate from the free-throw line. Over the course of her playing career for DSU, the team compiled a 115-16 record.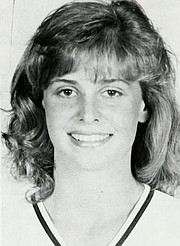 The former Kirk Academy star was named NCAA All-South Region in 1991 and 1992, and was an NCAA First-Team All-Academic All-American in 1991. Carroll-Denley received the Gulf South Conference Commissioner's Trophy and was the Delta State Female Athlete of the Year in 1992, as well.
Carroll-Denley graduated that same year with a bachelor's degree in education. She was inducted into the Delta State Hall of Fame in 2006.
In 2012, Carroll-Denley returned to Kirk Academy to coach the girls' basketball team. She guided the school to the MAIS Class AAA Championship. It was first state championship for Kirk Academy since the 1987-1988 season, when Carroll-Denley starred on the team.
The 2017 GSC Hall of Fame Class features two more inductees with ties to our state: former Mississippi College and New Orleans Saints star Fred McAfee, who works as the director of player development for the Saints; and former head coach for the University of North Alabama, Bobby Wallace, who was a football star at Callaway High School before he played at Mississippi State University. Wallace retired after the 2016 season when he led his team to the runner-up place in Division II.
The other inductees to this year's GSC Hall of Fame class are Radovan Chrz of the University of West Florida and Stephanie Pinto of the University of Alabama in Huntsville. The class will be enshrined on Wednesday, May 31, at the Hilton Pensacola Beach Hotel in Pensacola, Fla.
For more information, visit gscsports.org.