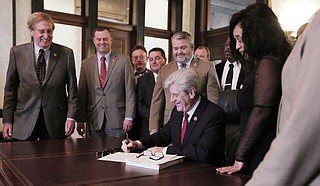 JACKSON — Starting in July if you're riding in a car in Mississippi, seatbelts are required for everyone in the vehicle. But previously, state law only required those passengers in the front seat to wear seatbelts.
Mississippi is only the 19th state to require that all passengers be buckled in. The bill was titled Harlie's Law after Harlie Ann Brooke Oswalt, a teenager killed in a car crash along with her cousin last November in Marshall County.
An Advocates for Highway and Safety press release thanked Gov. Phil Bryant for signing the bill into law on April 5 and said the law is timely because traffic fatalities in the state rose 12 percent in 2015, with over half of those fatalities not wearing a seatbelt.
"The majority of passengers in the rear seats of vehicles are teens and children, and studies have shown that seat belt usage by teens and young adults (age 16 - 24) is among one of the lowest segments of society," the press release said. "This upgrade of Mississippi's seat belt law will send a strong message that buckling up is not an option, it's a lifesaving requirement."
Republican leaders prioritized public safety this legislative session, and this week Gov. Bryant approved the Department of Public Safety's budget, which designates $7.33 million in funding to support the state's Trooper School. Even before the legislative session, DPS officials reported a shortage of troopers statewide as well as a high number of officers who are eligible to retire throughout the legislative session.
"The Mississippi Highway Patrol deserves our gratitude and support. Senate Bill 2968 funds a Trooper School that will increase the number of troopers on our roads, making them safer for the driving public," Bryant said in a Facebook post on April 11.
Another part of Republican state leaders' public safety agenda included a bill that increases penalties for crimes committed against law enforcement officers, firefighters and emergency first responders, if there is proven intent that they were targeted because of their perceived employment. The governor and several Republican lawmakers held a large press conference before the legislative session ended, to celebrate the governor signing the bill. Both the Senate and the House passed the Back the Badge Act, despite complaints about the unequal treatment that the law presents from the Legislative Black Caucus members. The Back the Badge Act goes into effect on July 1.
Email state reporter Arielle Dreher at arielle@jacksonfreepress.com and follow her on Twitter at @arielle_amara.