Wednesday, April 19, 2017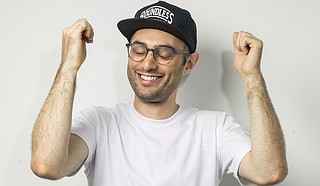 Technology can be a divider in time, and few musical styles show that better than deejaying. Some listeners viewed the art form as record ruining at its inception, and in more recent years, as simple button pushing.
As an artist who came up in the early-2000s hip-hop scene and still performs today, New York native Sam Zornow, whom fans know as DJ Shiftee, has experienced two different eras of deejaying.
Growing up, Zornow got into punk and grunge rock at age 9 and went through a significant saxophone phase at age 6—for reasons he says he can't quite remember—but he made an instant connection with hip-hop after seeing music videos on MTV. From there, he learned about local underground hip-hop, buying albums from the artists on Rawkus Records and performers at Lyricist Lounge, an iconic hip-hop open-mic event.
At age 13, he used his bar-mitzvah money to purchase turntables and a videotape of the DMC World DJ Championship, a competition that he went on to win in 2009, in addition to its sister competition, Battle for World Supremacy, in 2007.
After he saw the more performance-based style of deejay battles as a teenager, he was hooked. He began researching techniques and learning more about the medium, which wasn't quite as easy then as it is now, Zornow says.
"This was pre-YouTube, so I would go, and I would get every VHS tape I could find of different deejay battles and different deejay tutorials," he says. "And I would also, like, read about scratches on the Internet. There wouldn't be videos, but I would read a paragraph about how to do a particular scratch."
The next big step came when he was about 15 years old and began chatting online with a deejay named Cutfucius, who was a member the Lo-Livez deejay crew along with Boogie Blind and Precision. Connecting with those artists gave Zornow an opportunity to receive feedback on his performances. Soon after, he became a member of the crew, and each week, he would travel from his home in the suburbs of New York to practice with the crew in Queens.
Since then, Zornow has built his name as a solo act, performing throughout the country and making annual trips to Europe and Asia for performances. Having started when deejaying was much more of an analog art form, Zornow has seen it evolve, with the biggest change being the technology, which he says removed some of the barriers of entry.
Now, it's possible to download software, make a beat, put it online and suddenly have a music career, he says. Likewise, the deejay-battle scene is less enticing to creative musical minds, who are now more often drawn to producing. However, he hasn't shied away from advancements in music technology, but instead found ways to combine it with the fundamentals that he first loved about the genre.
"What I do is I like to incorporate all the new technology, all the programs, keyboards, pads and those kinds of things, and figure out how to flip them in a turntablist kind of way, and join them with more old-school, traditional techniques," he says. "So I'm still always performing on turntables, I'm still always scratching, and I'm still always making these sort of fancy performance pieces, but the difference is, now, I'm using all the tools at my disposal."
DJ Shiftee performs at 9 p.m., Saturday, April 22, at Kemistry Sports Bar & Hookah Lounge (3716 Frontage Road N.). DJ Cadillac, TVBOO and Rob Roy also perform. Admission is $10. For more information, visit djshiftee.com.