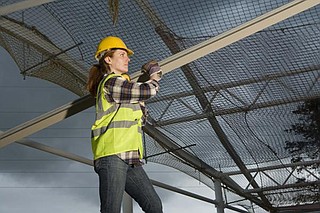 JACKSON — A new policy report from the Mississippi Low-Income Child Care Initiative shows that single, working mothers in Mississippi make far less than other types of families and still have to pay for child care. Programs like the Moore Community House Women in Construction are helping Mississippi moms change that by helping them land careers in higher-paying, nontraditional industries for women to work in such as advanced manufacturing.
The program allows women to participate in workforce training for eight weeks, while covering the costs of child care, and then the program helps them transition to apprenticeships or land jobs in higher-paying fields.
Matt Williams, who is the research director at the Mississippi Low-Income Child Care Initiative, said the program, which is located on the Gulf Coast, combines grant funding from the Department of Labor with Temporary Assistance for Needy Families, or TANF, funds from the Mississippi Department of Human Services' family block grant. Williams said the program is unique because it recognizes that single and low-income mothers need child care in order to go to work, but it also puts mothers on a nontraditional career path that could lead to higher wages in the long-term.
"I think the magic ingredient is the workforce training has to disrupt the pattern of gender-pay inequity, and it has to lead women to higher-paying jobs," Williams told the Jackson Free Press. "And in Mississippi, they are considered 'nontraditional' jobs for women."
Part of the policy report shows that certain industries, including construction, advanced manufacturing and truck driving, are highly segregated by sex—and ultimately, wages. Women make up a large amount of administrative and office "middle-skill" jobs in the state, but the average pay is around $28,000 a year, Williams said. "Middle-skill" jobs in the construction industry, which men mostly make up, pay around $41,000 per year.
"Women in Construction focuses on that particular sector because the earnings outcomes are so much higher for women than other positions," he said.
The Moore Community House program lasts about eight weeks, with a couple of weeks of field work after the training. Child-care support doesn't stop when a woman completes the program, however, in order to make sure she is able to make a stable transition to a new career before her child-care support is cut off. Most women in the program are at or below the poverty level, and are either unemployed or in a low-wage job, Williams said. The Department of Labor grant requires women to have children under the age of 14 to qualify for the child-care component of the program.
The Mississippi Low Income Child Care Initiative is encouraging state agencies and employers throughout the state to start more programs like the Moore Community House, which enable working mothers to enter higher-paying careers and get the child-care support while they receive training.
Email state reporter Arielle Dreher at arielle@jacksonfreepress.com.