Wednesday, August 9, 2017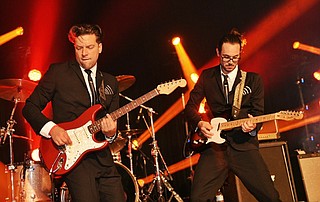 For the members of Palm Desert, Calif.-based quartet The Flusters, music has not only been a matter of creating art but also of brotherhood, formed through shared influences and almost three years together on the road.
The Flusters' lead guitarist, Jackson native Danny White, says the group's music works to push that bond further by attracting multiple generations of music lovers to shows.
"We've got the older crowd who comes for the nostalgia of an older sound, and there's a young crowd that comes in because they've never heard anything like it," White says.
"You definitely hear The Ventures, you hear the early Beatles, you hear The Smiths, and you even hear the Pixies or Radiohead," vocalist and rhythm guitarist Doug VanSant says.
"I like the term 'dream-surf' because it seems to pull from the dreamy aspects of every decade. (The music) is broader-reaching than any band I've played in."
White, who grew up and learned to play music in Mississippi, says he is able to bring flavors from his home state into The Flusters without it being a retread of what came before.
"Before I met Doug, I was a heavy-handed blues player," he says. "With that, we kind of honed our craft together and developed our style ourselves. Jackson gave me everything, musically. It plays heavily into everything I am."
White says that he moved to California in April 2012 at age 26, looking for a new start after he had struggled with addiction to drugs and alcohol. While he had no real expectations of what the move would mean for him, he says The Flusters came as a result of him getting better.
Soon after forming in 2014, The Flusters added bassist Mario Estrada, with drummer Daniel Perry joining about a year later, and the group has performed across the country ever since. In 2016, they were one of the few local acts featured in the Coachella Valley Music and Arts Festival, sharing the stage with artists such as Chvrches, Ice Cube and Cold War Kids.
Last October, the band released its first set of recordings, "Extended Play No. 1," and in June 2017, the group raised more than $20,000 through Kickstarter to fund its follow-up, "Extended Play No. 2," which it plans to put out this November.
"We want to make this release bigger and better," VanSant says. "Our first release was self-funded by playing our own music. We were really moved significantly by the successful funding of that campaign and exceeding that goal. We accomplished a couple things people said we wouldn't."
"It showed us a lot, as far as our supporters," White says. "There are a lot of people who really believe in what we're doing and care."
In addition to funding The Flusters' next EP, the money the musicians raised will also go toward their six-week national tour, which stops in Jackson Aug. 15. Although the band members put in a lot of work to make their EPs something to be proud of, VanSant says The Flusters are a live experience first and foremost.
"You have to see us live if you want to know who we are," he says. "It doesn't matter what we capture (on the records). You're never going to see what's on that stage."
The Flusters perform at 7:30 p.m., Tuesday, Aug. 15, at Duling Hall (622 Duling Ave.). The Chad Wesley Band and Stonewalls also perform. Doors open at 6:30 p.m. Tickets are $10. Visit theflusters.com.