Wednesday, August 23, 2017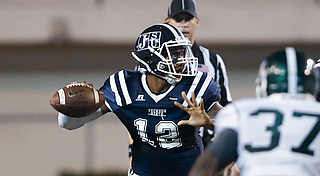 Head coach: Tony Hughes (3-8 overall, all at JSU, entering second season)
2016-2017 record: 3-8 overall, 3-6 SWAC
Radio: 95.5 FM
Stadium: Veterans Memorial Stadium
2016 Recap
The Tony Hughes era got off to a rough start, with Jackson State beginning the season on a three-game losing streak. JSU turned things around by winning two in a row. The team went on to lose five of its final six games, but the story is about more than just losses. Even though the Tigers were coming up short on the scoreboard, they were in close games. Southern University won by four points, Prairie View A&M University won by 14 points, Alabama State University won by seven points, Alabama A&M University won by seven points, and Alcorn State University won by 19 points. In three of the five losses, the Tigers were just a touchdown away from winning or tying the game.
Season Overview
Early on in the season, the main question is who the starter will be and what that player's depth chart will look like. For quarterback, Juwan Adams played in eight games last season, but he decided to transfer. Jarin Morikawa played in six games last season, but concussions forced him to retire. That just leaves Brent Lyles, who played in seven games, as the only quarterback who was on the roster for JSU last season. Jackson State signed two quarterbacks in Jeff Toney and Tavis Williams out of high school.
The Tigers are also welcoming transfer Alin Edouard. Edouard has journeyed around the junior-college ranks as he has worked to become eligible.
2017 Outlook
The Tigers have plenty of talent to compete in the SWAC this season. For example, running back Robert Johnson and wide receiver Jevon Floyd are returning to the offense. The defense features defensive end Keontre Anderson, linebacker Andre Lloyd and defensive lineman Malik Hamner. JSU also is also adding two Mississippi State transfers, defensive back Jamoral Graham and defensive lineman Deion Pope.
The Tigers probably won't win the opener against Texas Christian University, but the rest of the schedule features winnable games. Hughes doesn't need to win the division title this year, but he should improve on his win-loss record.
Prediction
Hughes got a full offseason for the players to get acquainted with his system and standards. That should help this season as everyone buys into the vision that he has for the program.
Alcorn State is favored to win the SWAC East, but Jackson State isn't that far off from challenging. Winning some of those close games could put the Tigers in the final SWAC Championship Game.
The annual matchup against Tennessee State University could be a coin-flip game. JSU plays Tuskegee at a neutral site this year in an interesting match against a good Division II squad.
It wouldn't be shocking to see JSU reverse its record from last year, but it is highly unlikely. The Tigers should finish with a winning record if they play up to their talent. I think a 7-5 record is easily attainable.
Schedule
Sept. 2 @ TCU; Sept. 9 Tennessee State (neutral site); Sept. 16 @ Grambling State; Sept. 23 Arkansas-Pine Bluff; Sept. 30 @ Prairie View A&M; Oct. 14 Tuskegee (neutral site); Oct. 21 Southern; Oct. 28 @ Mississippi Valley State; Nov. 4 Alabama State; Nov. 11 @ Alabama A&M; Nov. 18 Alcorn State
Find links to the rest of JFP's 2017 College Football Preview here.