Wednesday, August 23, 2017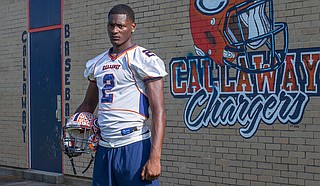 Callaway High School wide receiver Malik Heath, 17, glides down the field as the Chargers practice for the start of the 2017 season. Throughout the two-hour practice, the four-star recruit encourages and helps his teammates. He also never seems to a drop a pass as his large hands swallow ball after ball each time they come his way.
It is easy to see why his teammates and coaches compare him to Dallas Cowboys wide receiver Dez Bryant and Atlanta Falcons wide-out Julio Jones. His body control and ability to lock the ball in his hands is similar to those stars.
Heath is not your typical wide receiver. He has plenty of swag, which is a must for any receiver, but he doesn't call for the ball on every play.
"I know the ball will find me," he says. "I just chill and lay back while my teammates get off, and then I go do my thing."
Last season, that meant racking up 1,276 yards on 42 receptions with eight touchdowns. He also chipped in four interceptions while playing defensive back for the Chargers.
Heath says he did not think about college football until he realized his potential at a Mississippi State University football camp as a sophomore. MSU wide receivers coach Billy Gonzales quickly took note of the 6-foot, 3-inch, 205-pound receiver and offered Heath his first scholarship. He committed to the school in April 2016.
Heath is still working to get better and to have the skills to play right away at a major school. "I know I have to get better at getting off the ball, working my release, fighting through contact and run crisp routes if I want to play as a freshman in the SEC," he says.
Though the senior says he is locked in with MSU, he is still going to make official visits to schools such as University of Oklahoma, the University of Florida and the University of Nebraska.
"I want to open my eyes to what other schools are out there," he says.
Now that he is a Dandy Dozen player, Heath has few individual goals left for his final high school season. However, one major accomplishment still eludes him and his teammates: a football state championship at Callaway.
"It would be an honor to leave a legacy of a state championship for other guys to look up," Heath says. "Callaway is coming for a state championship. We are going to be great."
The young athlete says he wants to study business in college. In his free time, he plays basketball with friends.