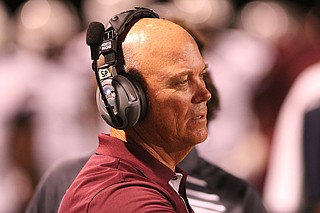 The 2017 college football season hasn't even started yet, but our state has already had two coaching changes, and a week is left until teams begin the season.
You would have to be living under a rock if you didn't hear about University of Mississippi head coach Hugh Freeze's resignation. But you might have missed that on Aug. 16, long-time Hinds Community College head coach Gene Murphy announced that he has decided to step down. He will continue on at Hinds as the athletic director, a position he has held since 1997.
His coaching career began at Philadelphia High School, where he spent one year as assistant football coach and head baseball coach. In 1980, he took over as head football coach and athletic director at Caldwell High School in Columbus, Miss.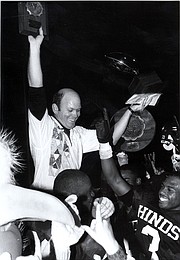 Murphy started at Hinds as defensive coordinator in 1983. He served as offensive coordinator and head coach during his first stint leading the program.
Murphy had two stints as head coach for the Eagles. His first time at the reins lasted from 1987 to 2003, and he returned to the sidelines in 2009 and finished his eighth season back as head coach last year.
Murphy spent 33 years as head coach for Hinds, but his most successful era was during his first years in the position. By the mid- to late-1990s, he had built the Eagles into one of the best junior-college programs in the country.
He won four straight Mississippi Association of Community and Junior College and National Junior College Athletic Association Region XXIII titles from 1994 to 1997. Murphy previously won both titles with his 1988 team.
Murphy led the Eagles back to the top one more time during his first time on the Hinds sideline in 2000, once again winning both the MACJC and NJCAA Region XXIII titles. It was the program's 13th title and his sixth and final title as the head coach.
He wasn't able to capture the same success during his return to the head-coaching position in 2009. Murphy finishes his career with a 172-76-5 overall record and was the winningest active coach in the National Junior College Athletic Association until he stepped down.
During his time at the helm of Hinds' football team, he guided his players to the state playoffs 14 times and to eight junior-college bowl games. Numerous players from the program went on to play at four-year colleges and universities, and more than 50 have gone on to play in the NFL.
The coach made sure his teams did the work in the classroom as well as on the field. Hinds won the David Halbrook Award, which the community or junior college with the highest percentage of graduates or compilers in its athletic program district wide receives, 15 times since 1987.
He was selected as Region 23 Coach of the Year six times, and coached 36 NJCAA All-American players and two NJCAA National Players of the Year. His teams have won 12 South Division titles under his watch.
His wife, Dot, is also the assistant athletic director for HCC.
Defensive coordinator Larry Williams takes over as head coach and will continue his duties as coordinator this season, along with his head-coaching duties. Williams previous held the title of head coach from 2003 to 2009 before Murphy returned to the sidelines.