Wednesday, January 4, 2017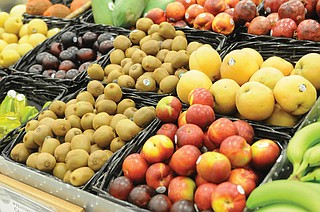 Every year, we make our new year's resolutions. Many of us plan to be smarter with our finances, our relationships and other areas. The most common resolution people make is to be healthier. And at the end of the day, good health is the most valuable asset that we can posses. So how can we come up with a successful plan that we can actually stick to? Here are some tips.
Be realistic with your goals. I have had patients tell me that they are going to lose an unhealthy amount of weight in an unreasonably quick time. I remind them that the weight gain did not happen overnight, and to be patient and persistent, which will lead to greater success and better health. Losing weight in a more gradual manner, about a pound a week, leads to a better chance of long-term weight loss.
Remember that success comes with persistence. This includes a daily application of healthier eating and activity. I often use my medical-school training as an illustration for patients. I tell them of how we learned a chapter a week in each class for four years.
There were times when we wanted to throw the towel in, but we reminded ourselves that we must maintain persistence. The interesting relation between medical training and adapting a healthier lifestyle is the fact that to be truly successful in both, they must continue for the rest of their lives.
Associate with others who have similar goals. If you are trying to accomplish a goal, it is helpful to seek out others with the same objective. When in medical school, I learned how helpful it was to hang out with medical students for encouragement. If you are trying to be healthier, have a support system of people who may suggest going to the gym as opposed to going to the new buffet.
Minimize temptation by minimizing exposure. Make every attempt to limit access to foods that are not best for your success. I advise my patients to go to their kitchen with a big garbage bag and dispose of all selections that they consider not optimal for their new healthier lifestyle. I tell them they should take their gym clothes with them in the morning, and go straight to the gym after work and, if needed, take advantage of the child-care options at most gyms. The temptation of staying home after work when you originally planned to go back out to the gym can be overwhelming.
Consciously do an assessment of every selection. When you are at a restaurant, and survey the menu, simply ask yourself which option is healthier. When you are deciding if you should exercise on that Saturday morning after a long week, just ask yourself which choice will make you the proudest. With the right game plan, 2017 will be your year of success.