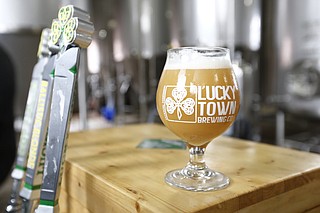 On July 1, Lucky Town Brewing Company (1710 N. Mill St.) is hosting a grand-opening celebration for its new Tap Room. Visitors will be able to purchase beer in the space for the first time, thanks to a new law that the Mississippi Legislature recently passed.
"Five years ago, you couldn't even sample beer on the premises at a brewery in Mississippi," Lucky Town brewmaster Lucas Simmons says. "We successfully got this new law pushed through just this year, and July 1 is the first day it goes into effect, so we're going to be selling everything we have on tap right now. We'll have canned and bottled beers customers can take home and will also be offering beer by the pint onsite."
The Tap Room grand opening begins at 11 a.m. and will continue late into the evening. The event will include music from the Jason Daniels Band, Scott Albert Johnson and Silas, and local food trucks, including Hog Heaven Barbecue and 2 for 7 Kitchen, will be selling food.
For more information and a full beer list, visit the event page on Facebook.
Amerigo Hosting June Benefit for CARA
Amerigo Italian Restaurant is celebrating 30 years in business with a promotion to raise money for Community Animal Rescue & Adoption throughout June. Amerigo will donate $1 to CARA all month for every tiramisu it sells. The Ridgeland and Flowood locations will both participate in the benefit.
Amerigo co-owner David Conn served as the general manager of the original Amerigo in Ridgeland in 1987. He and three other longtime Amerigo employees formed 4-Top Hospitality and bought the restaurant in 2009. The group has since expanded Amerigo to include locations in Flowood and in Nashville, Tenn., Brentwood, Tenn., and Memphis, Tenn.
CARA is a nonprofit, no-kill animal shelter in Jackson that cares for about 400 neglected, abused or unwanted pets daily. The shelter is volunteer-operated, and it helps find homes for animals and educate the public about proper care and treatment.
For more information, visit carams.org.
BankPlus Moves into The District at Eastover
The District at Eastover (1250 Eastover Drive), which is a multi-use development in northeast Jackson, recently announced that one of its anchor tenants, BankPlus, has moved into its new office complex. The BankPlus Building is a 67,000-square-foot office that will serve as the headquarters of the business' Jackson banking center.
BankPlus opened a retail banking office on the first floor, and has offices on the second and third floors with departments for commercial lending, commercial real estate, private banking and business development, among others. The building's first floor includes an additional 17,000 square feet of available retail and restaurant space.
The BankPlus Building will also offer drive-thru banking Monday through Friday from 7 a.m. to 7 p.m. and Saturday from 9 a.m. to 1 p.m., as well as interactive teller machines that customers can use for deposits, transfers, loan payments, check cashing and withdrawals.
For more information, visit districtateastover.com or bankplus.net.
Walk-On's Bistreaux & Bar Coming to Mississippi
Walk-On's Enterprises, the Baton Rouge, La.-based parent company of sports bar Walk-On's Bistreaux & Bar, recently announced plans to open locations in Jackson, Hattiesburg, Oxford and Southaven.
The restaurant offers Louisiana-style dishes such as fried jumbo Gulf shrimp, etouffee, crawfish pasta and fried catfish, as well as po'boys, wraps, burgers, cocktails and craft beer.
Walk-On's currently has four locations in Baton Rouge, two in New Orleans, and one location each in Lafayette, Houma, Shreveport, Lake Charles and Bossier City, La., as well as Lubbock, Texas. New Orleans Saints star Drew Brees and his wife, Brittany, became co-owners of Walk-On's Enterprises in May 2015.
For a complete menu and more information, visit walk-ons.com.