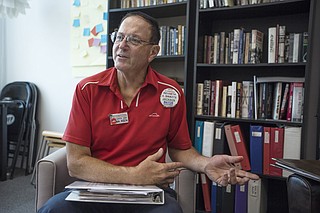 JACKSON — Election Day in Jackson has arrived after a month of candidates continuing their campaigning from the primary elections on May 2. Voting today is from 7 a.m. to 7 p.m. in your designated precincts.
Six candidates for mayor are still in the race: one Democratic, one Republican, three Independent, and one Libertarian.
Chokwe Antar Lumumba, 33, is the Democratic nominee for Jackson mayor after defeating nine other Democrats in the primary, avoiding a runoff. Lumumba is a defense lawyer like his father, former Jackson Mayor Chokwe Lumumba Sr., and older sister, Rukia Lumumba. He ran for mayor in the special election after his father died but lost to current Mayor Tony Yarber, who lost his bid for re-election in the May 2 primary.
Jason Wells, 34, is the Republican nominee for Jackson mayor. Wells has participated in previous elections: once running for city council against Tony Yarber, a few times for constable and now against the other five candidates. He is currently a Jackson Police Department security officer and has worked with the City for six years.
Kenneth Swarts, 60, is an independent candidate for Jackson mayor. The Pizza Hut driver of nine years calls himself "The Good Samaritan," due to his selfless labor in the community for strangers and neighbors. Swarts also ran for mayor in 2014.
Gwendolyn Chapman, an independent candidate, ran as a Democrat for Ward 3 city councilwoman in 2010 and mayor in 2014. She served as a yoga and meditation instructor at Jackson State University in 2010 and from 2012-2015, and is dedicated to legalizing medicinal marijuana.
Jaclyn Mask, an independent candidate, attended Hinds Community College and became a licensed realtor. She is the leasing manager of both the Standard Life apartment building and the King Edward Hotel. She has not returned calls or emails for an interview.
Corinthian Sanders, 24, is the Libertarian candidate for Jackson mayor. At the age of 20, Sanders vied for Ward 5 city councilman and District 72 Mississippi House of Representatives in 2016.