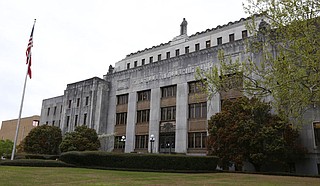 JACKSON — The Hinds County Justice Court issued a bench warrant today for the arrest of former Jackson Police Department Officer Justin Roberts, due to failure to appear this morning. Attorney Francis Springer, who is representing Roberts during the trial, says that Robert "didn't have notice that any charges had been filed against him."
"The court sent their notice to the Police Department and obviously with him not working there anymore, he didn't get that notice," Springer said. "He did go before the judge. The judge understood and he removed the failure to appear warrant."
Roberts' attorney added that the former officer was at a "civil service hearing on the appeal of his termination at the same time of the trial."
JPD fired Roberts in February after a video showed what appears to be the now former officer kneeing and punching the handcuffed LaDarius Brown. In the cellphone video it shows Roberts pushing Brown against a red building that was identified as a hair salon.
Attorney Carlos Moore, who is representing Brown, says that Roberts was expected to be arrested in about two weeks, and the next trial date will be scheduled in a month or so.
"It's clear that Justin Roberts has no regard for the law and clearly can see what he did to my client. ... He believes he's above the law, and we're here to let him know that he is not."
In February, WAPT reported that hair-salon employees said Brown knew Roberts prior to the incident. "I don't know Mr. Roberts," Brown said today. Springer also confirmed that this is not true.
"We want him found guilty of simple assault, and we want the judge to imprison him and, or fine him," said Moore.
Springer stated that his client wishes to not speak with the media and wants to avoid heavy media exposure.
Email city reporting intern William Kelly at william@jacksonfreepress.com and follow him on Twitter at @William_Reports.