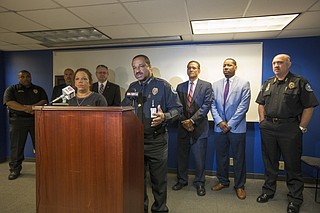 JACKSON — The Jackson Police Department called on the FBI, DEA, and ATF in hope of a speedy discovery regarding the decapitated head and burned torso of a black male over the weekend. JPD tweeted today at 4:52 p.m. identifying the man as 30-year-old Jeremy Jerome Jackson.
Someone found the head on the front porch of a home at 1536 Deer Park St. this past Saturday morning, JPD tweeted around 9:42 a.m. That afternoon at 4:16 p.m., JPD tweeted that the burned human torso was found around 3 p.m. at Green Avenue near Grand Avenue.
"The second incident involving the severed head and decapitated torso has given us the impression that perhaps we needed to reach out for help from our federal partners simply because this was such a shocking, brutal, bizarre incident that is truly unique to the City of Jackson," JPD Chief Lee Vance told the press this morning. "And right now we have very, very little information as it relates to either one of these cases."
Chief Vance says that basic investigation evidence is necessary before jumping to any conclusions in the case about motive and weapons. No further information regarding the exact cause of Jackson's death was released.
On Friday, a masked man executed Just For Kids barbershop owner Johnny Brown, 49, but police do not know if it was related to the Saturday murder.
Email city reporting intern William Kelly III at william@jacksonfreepress.com.