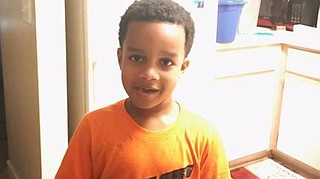 "Did y'all hear about the 6-year-old boy who got kidnapped from Kroger this morning?"
It was the first thing I heard from my mother when I stumbled into the kitchen in a grump for my orange juice after I took my sister to school on that tragic day. That stopped me right there.
"What?" I asked.
"Mmm-hmm, his mama went into Kroger and left him in the car," my mother replied as she began breakfast. "When she came back out, they took off with the little boy. It's a damned shame. They could've stolen the car and took the little boy out. Now, he's missing. I just pray they find him."
I shook my head. The optimist in me was sure he would be found. Almost as a reflex, I took out my phone to check Facebook.
"Please find my nephew" was one of the first posts I see on my news feed. My eyes were glued to an adorable little boy in his cap and gown with another picture of him smiling in an orange shirt. My stomach was in knots.
I continued scrolling to see that his name was Kingston, and he was indeed 6. Even worse, this was the day of his promotion ceremony, I came to learn from posts that his family members shared.
"Oh my God," I said aloud, then thought to myself, "Oh, please find this little baby so he can go to his promotion ceremony with his friends. It wouldn't be fair at all if he couldn't."
That really hit home because my younger sister would be promoted from elementary to middle school soon, and I would be absolutely sick if anything happened to her on that day.
The worst was yet to come. Even though I knew better, I checked the story on WLBT's Facebook page for updates, and I dared to check the comments and got exactly what I expected, mostly about Kingston's mother.
"OK, but this never would have happened if she took him in the store."
"Is she stupid?"
"Why was a child out at this time of night? Ridiculous!"
"Maybe she set this up? This seems really suspicious."
And the list went on.
"Oh sure, blame the damn mother," I said and sighed. It wasn't a sigh of disbelief or disappointment. Needless to say, when I had found out this child's picture and saw that he was African American, I knew that some people would blame the mother.
No, this was a sigh of "Don't they ever get tired of doing this?" When you're a minority, you can't make a mistake that white parents easily could have made.
My mind traveled back to last summer to a story about a mother who forgot to take her child to daycare and left her in the car while she worked for eight hours. I expected a few raised eyebrows and judgments cast as I read the comments, but there wasn't much.
"Poor woman. This must be so tragic for her."
 "Any mother could make that mistake."
"She already lost her child. Why be so rough on her?"
Someone much bolder than I commented under the story, pointing out that it didn't contain the name of the mother, the child or her picture. She must be white, the commenter said.
That comment received a lot of backlash, but it did spark something in my mind. Usually, there are mugshots, children's pictures and the names of the parents, but it was strangely absent from that article, even though others identified her as Amy Bryant of Brandon. There was even another article on EveryMom.com called "This Mom Forgot to Drop Her 2-Year-Old at Daycare and the Child Died. Here's Why I Won't Judge Her."
Of course, there are negligent white parents who also receive judgment, but there is bias in how it is framed. Consider the article titles, "Mother Forgot Her Child" and "Mother Left Her Child." The first sounds like an honest mistake, and the other sounds like an irreversible, unforgivable action that deserves no sympathy.
Our community needs to examine the implicit bias against black mothers that immediately draws condemnation and conspiracy theories, but sympathy for white parents who make similar mistakes.
If one deserves sympathy and the benefit of the doubt, so does the other.
Amber Taylor is a 19-year-old accounting major with a minor in theater arts at Dillard University in New Orleans. The Jackson native and alum of the Youth Media Project.
Read more about the case at jfp.ms/kingstonfrazier.