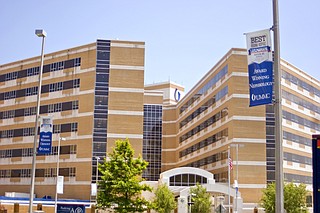 University of Mississippi Medical Center announced in a release last week that University Wellness Center Downtown and University Wellness Center Northeast in Jackson will both close on April 1. The closings are in part due to recent cuts to patient-care reimbursement and other budget reductions.
The release said that UMMC leadership announced in February that departments and units across campus need to identify ways to reduce expenses or increase revenue by a net $24 million by June 30. The two centers are projected to lose a $400,000 in 2017. UMMC owns the northeast Jackson center and leases the downtown facility.
A combined total of 36 staff members at the two centers will remain on the job through March 31 and can apply for openings at the remaining University Wellness Centers in Madison, Brandon and on Lakeland Drive in Flowood. Membership in the centers won't change. People who use the two Jackson locations, which are located at 100 E. Capitol St. and 46 Northtown Drive, will continue to have full access to the other three centers.
UMMC said that both the northeast and Lakeland Drive locations are in need of improvements that would cost between $6 million and $7 million per facility to bring them up to the standards the center requires for supporting its health-care continuum. Funds generated from the eventual sale of the northeast center will go toward a major remodel of the Lakeland Drive location. Short-term improvements will include moving almost 50 pieces of new cardio equipment there from the downtown facility.
MDA and Mississippi Board of Trustees Announce Collaboration
The Mississippi Board of Trustees of State Institutions of Higher Learning and the Mississippi Development Authority formalized a partnership through a Memorandum of Understanding at the beginning of 2017 to leverage higher-education assets to attract business and industry to the state. In collaboration with the state's eight public universities, the Board of Trustees and MDA will showcase the state to companies that will create jobs and invest capital.


MDA and the Board of Trustees held a meeting in January in which they put together and signed a memorandum detailing expected outcomes of the collaboration. Plans include increasing the number of corporate contacts and project leads for MDA, creating more opportunities for corporate entities and public universities to support one another, and to stabilize businesses and job growth across the state. 
Some of the organizations' other planned efforts include shared marketing messages, joint outreach to strategic clients and business leaders, and identifying and supporting shared legislative priorities. Each organization will designate a representative to serve as a point of contact and liaison for the effort.
MDA and the Board of Trustees also announced the creation of an online tool that is designed to help recent and soon-to-be graduates find jobs in the state at msgradjobs.com. The site allows students to receive email alerts when jobs in their desired career tracks become available.
For more information, visit mississippi.org.
Verizon Wireless Presents Award to Career Development Center Students for App Challenge
On Friday, March 3, Verizon Wireless presented a $5,000 reward along with new tablets to a group of students working with the Career Development Center in Jackson (2703 First Ave.) for being named the Best in State winners in the fifth annual Verizon Innovative Learning App Challenge.
The Verizon Innovative Learning App Challenge is a nationwide contest in which middle- and high-school students develop concepts for mobile apps that solve a problem in their community. The Career Development Center students' winning app idea was one of 1,800 submissions from around the country in this year's contest. The proposed app, called Be the Plug, would connect students in poverty-stricken areas to science, technology, engineering and math (STEM)-related community-service opportunities, and help open doors to new careers for the students. For more information, visit jackson.k12.ms.us/careercenter or appchallenge.tsaweb.org.