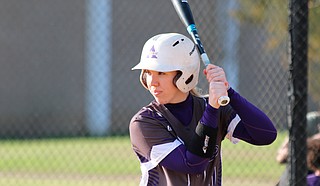 Southern University, the No. 4 seed out of the West Division, shocked Alcorn State University, the No. 1 seed out of the East, on the opening day of the 2017 SWAC Softball Tournament.
On Wednesday, May 10, Southern jumped out to a 4-0 lead after five innings, with the Braves committing three errors. Alcorn State then scored two runs in the sixth inning, which cut the lead to two points, but the team could only manage a single run in the seventh inning to fall 3-4 in the opening game.
The Braves faced the University of Arkansas at Pine Bluff in a win-or-go home game on May 11, but the Golden Lions defeated them 5-11, kicking Alcorn State out of the tournament.
Even with the losses, players such as infielder Taylor Hughes shined. In game one of the tournament, Hughes went two for four at bat with a run scored in the seventh inning. Her performance allowed her to extend her streak of reaching base safely to 21 consecutive games. In game two, Hughes went one for four, but hit one homerun and had two RBIs.
After the Braves' tournament loss, the Phoenix, Ariz., native's batting average came to .404 with 59 hits, 38 runs scored, 37 RBIs, 17 doubles, one triple and two homeruns. She leads the team in batting average, hits, runs scored and doubles, finished second in RBIs and homeruns, and finished fourth in triples.
This year, Hughes received the titles of 2017 SWAC Hitter of the Year, 2017 SWAC Player of the Year and first-team All-SWAC. Hughes is one of Alcorn State Magnolia Bluff Athletes of the Week for this week, and she was named to the SWAC All-Tournament Team on May 13. The junior first-base player leads the SWAC in doubles and runs scored, is third in batting average, and is second in hits. She also finished third in the league in total bases with 84 and fourth in RBIs.
Hughes has been a major part of a rebuilding program at Alcorn State. The Braves went 8-39 overall in the 2014 season, the year before she arrived. In her freshman year, ASU bottomed out at 2-27 overall on the season and went winless in conference play. One of the few highlights was Hughes, who averaged .420 at the plate with 34 hits and 17 RBIs.
The Braves improved last season, as the team went 18-28 overall and 11-6 in conference play. Hughes finished with a .381 batting average with 49 hits and 28 RBIs, earning first-team All-SWAC honors. Alcorn ended this season with a 16-31 overall record but had a 13-5 record in conference play.