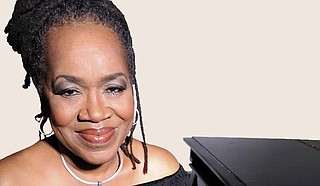 Operation Shoestring, a Jackson-based nonprofit organization that focuses on providing for the educational, cultural and social needs of children, is incorporating the music of Bob Dylan in its upcoming fundraiser for its summer programs.
As the event's name suggests, the legendary singer-songwriter won't be taking the stage on June 1 for "The Times They Are A-Changin': An Evening Without Bob Dylan." However, a stacked lineup of local and regional talent will be taking on some of his most famous tunes.
"Dylan's music has touched so many different chapters of our lives (in genres) from folk to gospel, and connected and covered so many music waterfronts, including the social consciousness of so many people via the Civil Rights Era," Robert Langford, the executive director of Operation Shoestring, says. "I felt his music is still relevant in society today, and his work has proven to be worthy of a Nobel Prize for literature, resulting in Dylan being hailed as the music Poet Laureate."
In order to bring the event together, Langford reached out to Jackson photographer and music enthusiast James Patterson, who has a history of creating events in celebration of different eras of music, such as the Civil Rights Movement, and specific artists, such as The Kinks and Lou Reed.
"Themed music events have been well received around Jackson," Patterson says. "Therefore, I was thrilled that Operation Shoestring's staff felt it would be a great vehicle to raise money and to celebrate the music of Bob Dylan. ... The musicians can put their own spin on Dylan's lyrics, which allows them to stretch out and expand their horizons, because Dylan continues to influence the music of the modern era within the indie, jazz, folk, blues, gospel, and hip-hop and rap genres."
The artists performing for the event come from backgrounds as diverse as the genres that Dylan's music has influenced. The lineup includes jazz and blues artist Rhonda Richmond, singer-songwriter Josh Little, rock trio Cynical Twins, opera singer James Martin, singer-songwriter Lee Barber, David Minchew & the Pine Tar Rhythm Section, blues artist Bronwynne Brent, and garage-rock band Furrows, who will perform with rapper James Crow.
Richmond says that she gravitates toward the relatable storytelling in Dylan's music, which focuses on real-life issues and situations. "I love his poetic style, which lends itself to the blues themes I grew up hearing as a child on Farish Street," she says of her interpretation.
Little says that his take on Dylan will come from "the darker side of folk music that exuded from the music of Hank Williams Sr., (as well as) a blues slant that comes from my being influenced by Howlin' Wolf, as played by my Mississippi Howls Blues Band." He plans to put his guitar licks on songs such as "It's Alright, Ma" and "Boots of Spanish Leather," which he says stand out among Dylan's vast repertoire.
"The Times They Are A-Changin': An Evening Without Bob Dylan" is at 6:30 p.m., Thursday, June 1, at Duling Hall (622 Duling Ave., 877-987-6487). Admission is $10 in advance or $15 at the door, and the event is open to all ages. For more information, visit ardenland.net.