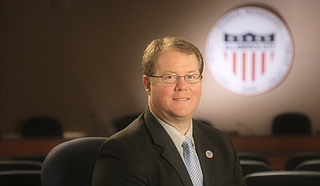 JACKSON, Miss. (AP) — A Democratic mayor is dropping out of a special U.S. Senate race in Mississippi, leaving four candidates in the contest to serve the final two years of a term.
Tupelo's Jason Shelton said Tuesday that "this election, at this time, is not right for me."
Longtime Republican Sen. Thad Cochran resigned April 1 amid health concerns. Gov. Phil Bryant appointed Mississippi's second-term agriculture commissioner, Cindy Hyde-Smith, to temporarily succeed Cochran.
She's among four candidates remaining in the Nov. 6 special election, and the ballot won't list party labels.
Others running are Mike Espy, a Democrat who was President Bill Clinton's first agriculture secretary; Republican state Sen. Chris McDaniel; and Tobey Bartee, a Democrat who previously served on the Gautier (GO-shay) City Council.
A runoff, if needed, would be Nov. 27.