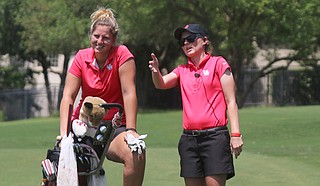 HATTIESBURG, Miss. (AP) — The University of Southern Mississippi's women's golf program has a new leader at its helm.
Director of Athletics Jon Gilbert announced Thursday the hiring of Lucy Nunn, who comes to Hattiesburg after serving as an assistant coach at the University of Houston since July 2014. Nunn helped guide the Cougars to the American Athletic Conference Championships, earning a spot in the NCAA Regionals, in which one of their students advanced to the NCAA Championships.
In 2016-17, Nunn helped lead the Cougars to NCAA Regional play for the third straight season and three top-five team finishes, including third-place showing at the AAC Championships and MountainView Collegiate.
Nunn also helped guide the Cougars to three tournament titles and a pair of individual crowns in 2015-16.