Tuesday, November 27, 2018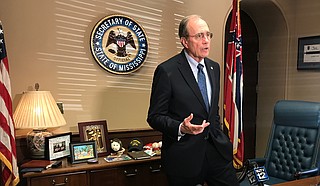 This story has been updated
Three individuals and the Mississippi State Conference of the NAACP brought a civil-rights suit against the State for absentee-ballot issues ahead of the U.S. Senate run-off election between Cindy Hyde-Smith and Mike Espy.
The Nov. 21 complaint says three Mississippi residents—87-year-old Barbara O'Neil, 65-year-old William Sewell and 67-year-old Julianne Huber—requested an absentee ballot ahead of the run-off election, but as of Nov. 20, none received a ballot. State law says circuit clerk's offices must receive mail-in ballots by Monday, Nov. 26, at 5 p.m. The suit argues this was not possible for the plaintiffs and many other Mississippians with the Thanksgiving holiday and a one-week deadline.
On Nov. 26, the day before the run-off, the NAACP asked for a temporary restraining order that would extend the mail-in deadline so that absentee ballots postmarked by Nov. 27 could be accepted on Election Day, too.
U.S. District Judge Daniel P. Jordan III ruled against that order today.
"There are two related problems with Plaintiffs' requested relief—it is too late and disturbs the status quo," Jordan wrote.
He added that the temporary restraining order filed yesterday, the same day the disputed deadline expired, means the NAACP seeks retroactive relief on Election Day. The judge ruled that while there could be some harm to voters whose absentee ballots might come in today, the restraining order would cause more harm and confusion, especially for out of state voters who might not get the notice in time.
Jordan points out that two plaintiffs, Sewell and Huber ended up voting before the 5 p.m. deadline on Monday, and they will be dismissed from the case in time. But the litigation is not dead. There is a telephone conference for both legal parties set for Dec. 6.
However, the judge does acknowledge the hurdles Thanksgiving presented, however, saying that this particular timeline was "tight—if not impossible—for some voters."
Inside the Lawsuit, Restraining Order
Part of the NAACP's concern hinges on the fact that the general-election results were not certified until Nov. 16, the last day within the state-mandated 10-day window. Secretary of State Delbert Hosemann said records in his office say that circuit clerks mailed out ballots on Nov. 17.
"The most important thing is who casts a ballot (on Nov. 27)—not these three people, and not a theory case here that will go through the courts or whatever process it goes through," Hosemann said in his Capitol office on Nov. 26. "The most important thing is you go vote (on Nov. 27). And when people do this on the last hour of the last day, ... that should not in any way denigrate the fact that we ought to go cast a ballot. So go cast a ballot."
The lawsuit says that even under expedited mail service, most absentee voters would not get the ballot until Nov. 21 or Nov. 23 because of the Thanksgiving holiday, leaving them a matter of days to find a notary and mail in the ballots on time.
"Needless to say, many, if not most, absentee ballots voted by mail will not be received in time, disenfranchising those Mississippians who were not able to vote in-person on Election Day," court documents read.
The lawsuit seeks a ruling from the court to allow all ballots postmarked on or before Nov. 27, the day of the run-off, to be counted.
"Mississippi's absentee ballot procedures burden the right to vote, serve no legitimate governmental purpose that cannot be accomplished by more tailored means, and threaten to disenfranchise honest, eligible voters," it reads.
Corey Wiggins, the executive director of the Mississippi chapter of the NAACP, brought the lawsuit up at a voter-suppression panel hosted by the Jackson Professionals Group on Nov. 26.
"It so easy to let people go and exercise right to vote, but we do our damnedest to prevent people from doing it," he said. "If the ballot is postmarked by Election Day, then it should be counted."
Who Is Suing Over the Ballots?
All of the plaintiffs meet the senior age requirement of 65 to vote absentee with no other excuse, but they all also happen to be out of town. O'Neil resides in Hinds County, but is visiting family in Tennessee and will be out of town on Election Day. The lawsuit says she called the Hinds County circuit clerk's office on Nov. 15 to request an absentee-ballot application be sent to her temporary address in Memphis. However, the ballot incorrectly listed her reason for voting absentee as having a permanent or temporary disability, so she requested a second and proper ballot. She had not received one as of Nov. 20.
Sewell, a resident of Harrison County, is a professor at Harvard Medical School and will be in Boston, Mass., during Election Day. He also called his circuit clerk's office for himself and his wife, but as of Nov. 21, neither of them had received the absentee ballot and application.
Huber is also a resident of Harrison County and works as an emergency physician. She voted in-person for the Nov. 6 election, but she has been in Boston for work since Nov. 8 and also needed to vote absentee. When she learned of the run-off, the lawsuit reads, Huber called her county's circuit clerk to request a ballot but was told to call back later. On the third try, her husband called on Nov. 17 to request an absentee ballot for the couple, but as of Nov. 21, they have not received such materials.
National Republican Group Steps In
Today, the National Republican Senatorial Committee asked the court to reject the "eleventh-hour invitation to assume the role of the Mississippi Legislature to make new election laws."
The NRSC filed a motion to intervene, a request to become a litigating party of the lawsuit. The entity is clear about its intent for such a request.
"The relief that Plaintiffs seek would deny Senator Hyde-Smith the right to an election decided according to the laws of Mississippi—laws duly enacted by the Legislature and established long before the election," the motion stated.
Counsel for the NRSC also takes issue with the timing of the lawsuit, but also how such a last-minute ruling would affect an ongoing election. Polls opened in Mississippi today at 7 a.m.
"Plaintiffs now ask this Court, after the statutorily-mandated deadline has already passed, to extend the deadline to allow any ballot postmarked by Election Day to be counted," the NRSC court documents read. "To make that change would result in chaos and unfairness. The counting process would have to be altered and extended to await any ballots that might trickle in."
From 2015 to 2017, U.S. Sen. Roger Wicker served as chairman of NRSC. He fully endorses Hyde-Smith for the other Senate seat. Sen. Cory Gardner of Colorado serves as current chairman with Sen. Thomas Willis of North Carolina as the vice chairman.
In 2018, the organization raised $129 million, according to Open Secrets.
This is a developing story. Check back for updates. Polls are open in Mississippi until 7 p.m. tonight. Voters already in line at 7 p.m. still have the right to cast a vote.
Email city reporter Ko Bragg at ko@jacksonfreepress.com.