Wednesday, September 25, 2013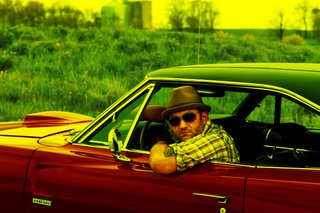 Although it had been about a decade since Brian "Voo" Davis played guitar, it seemed to be the best thing to help fill the void when his first wife passed from blood clot complications in 2009.
"I realized that I needed to do things that make me happy, and music has always made me happy," Davis says. He recorded and released a full-length album, "A Place for Secrets," three years later. On Sept. 10 this year, Davis, 40, released a follow-up about moving on to new things: "Vicious Things."
"I think 'Vicious Things' is something that I'm going to look back on—the whole experience—and just be happy with," Davis says. He and a group of Chicago musicians recorded the album in eight days in Lousiana.
Davis, born in Anniston, Ala., moved to the Chicago, Ill., area with his family as a child. He says that the south often feels more like home than Illinois, where he still lives today. Audiences here seem more receptive to his playing style.
"It's like a second home almost. I've made six or seven trips down to Louisiana and Mississippi just this year alone," Davis says. "When they hear an over-driven acoustic guitar in Mississippi and Louisiana, it's intriguing; whereas in Illinois they really want you to play that Strat or play that Gibson and play shuffles and play everybody else's songs. That's not really what I do; I play my songs."
Davis admits that he started learning the guitar late—he was already 20 years old—but he quickly understood the instrument.
"While my friends would be going out or doing whatever they do, I would be locking myself in a room just playing," he says. Davis was on the road with Eddie King after about six years of playing.
Initially, Jimi Hendrix and Stevie Ray Vaughn were two big influences, but Davis wanted more.
"I found that a lot of people were mimicking their sound, so I went in search of other things," Davis says.
The slide guitar piqued his interest, and then he sought to play more like Alvin Youngblood Hart or Mississippi John Hurt. They used their thumb and fingers to fret the guitar at once, creating the illusion of a piece of music having two guitar players. "To me, that seemed intriguing and kind of a challenge," Davis says.
Davis tries to write music that transcends the generic blues formula, incorporating more detailed lyrics. He wants his listeners to also pay attention to the words.
"On 'Vicious Things,' I'm trying to write lyrics that are more intelligent," he says. "A lot of times, musicians, when they're writing blues songs, they keep it really simple. ... I tried to push the lyric writing on all of my songs, not just the blues songs. I tried to push the concepts."
The album also goes beyond blues—although that's what Davis is known for—with its instrumentation. Featured instruments on "Vicious Things" include the usual guitar, bass and drums, but also include a B3 organ, clavinet, vibraslap, ukulele, fiddle, mandolin and Wurlitzer.
"I just did blues for years, so I think that's part of the sound. But that's not the only sound. This album has everything from swamp pop to jazz to rock to Americana, and I try not to pigeonhole myself," Davis says. "I try to let the songs speak."
While each song has some of the same main elements, each one also tends to lean in different directions. Davis describes the opening track, "One for the Habit, One for the Road," as more of an "overdriven blues" acoustic slide-guitar song. The next track, "Whisper," is more rock-based. On it, Davis comments on the music industry. "Phantom Woman," however, has somewhat of a jazzy chord structure.
"'Phantom Woman' is about being in Chicago," Davis says. "There were some late nights driving home from a show when I'd be the only one on Lakeshore Drive." The song talks about being on that road, perhaps the only one to see a beautiful sunrise over the lake.
Davis wrote the last song on the album, "Put Your Head on My Shoulder," for his current wife, Brooke, when she was pregnant.
"I woke up one morning and sat on a dock at Dockside Studio overlooking a river and wrote the song," he says. "We recorded it that day, and it was done."
Voo Davis plays at 9 p.m. Sept. 28 at Underground 119 (119 S. President St., 601-352-2322). The cover price is $10. His newest album, "Vicious Things," is available for purchase online. Visit voodavis.com.
Top Stories