Wednesday, December 9, 2015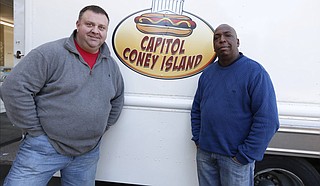 Around lunchtime in downtown Jackson, it's not uncommon to find a hot-dog cart at certain intersections.
Shortly after the recent changes to the city's food-truck ordinance, which made it easier for mobile food vendors to move around town, Capitol Coney Island owners Rob Lehman and Al Brown opened the business in June 2015.
Lehman, who is a Michigan native, along with Brown, says that work in broadcasting brought him here in 1998, and Brown had family here.
"We moved down here, and it kind of just gelled together," he says.
Lehman has owned three restaurants in the Jackson area—Filibusters, Harbor Bay and Bourbon Street in the Quarter—and Brown has managed chain restaurants such as Cracker Barrel (410 Riverwind Drive, 601-936-9990), Applebee's on County Line Road, which is now closed, and Logan's Roadhouse in Ridgeland (600 E. County Line Road, Ridgeland, 601-957-2254) and Pearl (431 Riverwind Drive, Pearl, 601-939-5174)
Lehman and Brown met Tyrone Hendrix, the Ward 6 councilman for Jackson who helped pass the new mobile-food vendor legislation, this past May. Once Hendrix told them that the ordinance had changed, it made getting a food cart easier. The business owners say that once they got it, they ran with the idea and watched the business grow.
In the beginning, the Mississippi Food Truck Association helped spread the word about the cart, which aided in the business' success.
Because they are mobile, Lehman and Brown say that the hot-dog cart has the ability to attend events and reach more customers.
"The hot-dog cart was an easier choice," Lehman says. "You can tow it behind any vehicle. And, you can get them in a lot of places the food trucks couldn't get to previously."
Recently, however, they bought a food truck to go along with the cart and can be seen at events such as the Mississippi Museum of Art's Museum After Hours, which is the third Thursday of each month.
With hot dogs steamed and ready to go, Lehman and Brown say they served more than 500 hotdogs in two to three hours during the Mississippi Book Festival earlier this year.
"Hot dogs are just easy," Lehman says.
In addition to the all-beef Nathan hot dogs from New York, the hot-dog cart offers Philly and chicken cheesesteaks. The cheesesteaks are served with provolone cheese, tenderloin steak or chicken, peppers, onions and mushrooms on Gambino buns from New Orleans.
"The best seller is chili dogs, but the Philly cheesesteak is catching on fast," Lehman says.
Recently, the menu expanded to include pulled-pork and chili-cheese nachos, Zapp's potato chips and roast-beef po'boys. Lehman and Brown are in the process of modifying the truck for a commercial venting system in order to offer fresh cut French fries.
In an attempt to service more areas, the location changes quite a bit. Capitol Coney Island has a location at the corner of President and Pascagoula streets that is considered a hot spot near the Hinds County Courthouse, but you can also find them at other areas, such as Smith Park and other streets downtown, and the business also does private events. Currently, Lehman serves on the board of directors of the Mississippi Food Truck Association and has plans of operating the business in the cities of Laurel and Ridgeland once the areas' food-truck ordinances pass.
Capitol Coney Island is open Monday through Friday from 10 a.m. to 2 p.m. To find its location, find the business on Twitter or download the Follow That Food Truck app. For more information, find Capitol Coney Island on Instagram or email [email protected].
Top Stories