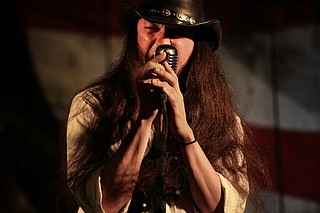 Reaching the end of a long road tends to remind you of the journey as a whole. That's definitely been true for Pearl-native singer-songwriter Aaron Coker as he recorded his latest EP, "I'll Ride," which he released May 27.
"My brother gave me his old Guns N' Roses tape cassette, and about a week later, I saw Slash playing on TV," he says of his earliest experience with music. "I was intrigued."
Not long after that, a young Coker traded in his video games and toys to purchase his first guitar. Then, he began hanging out with some of his parents' friends who played guitar, which spurred his interest even further. By the time he was 15 years old, he had discovered that music was not just a hobby but also a safe haven for him. He says he found himself rushing home from his extracurricular activities to freshen up his skills.
"I came home from school and played for several hours every day instead of doing my homework," he says. "I was involved in different sports, but music was always my escape."
Because of this dedication, he was able to release his first recording project, "Released by Ransom," at age 19. Coker says it was a "coming of self" album in which he grappled with the problems he faced in his youth, touching on topics such as relationships, anger and decision-making.
"I talked about different things that every teenager goes through," he says. "It's hard to describe it exactly, but I know it was a coming-out-the-shell project for me."
Coker has continued honing his skills and evolving as a performer over the years, which led to him forming The Aaron Coker Band with rhythm guitarist Randall Brown, bassist Mike Flanagan and drummer Geppetto Morgan in 2015.
Shortly after he and his band mates joined forces, Coker wrote one of his most popular songs to date, "I'll Ride," which his close friend Garrett Parris produced at Sound Stage Studios in Nashville, Tenn. The song, which won the 2015 Mississippi Music Award for Song of the Year, took inspiration from a National Geographic documentary that Coker watched about famed United States military burial site Arlington Cemetery in Arlington County, Va.
"Around that time, I had a lot of friends overseas, and there were some who made it back home and some who didn't," he says. "After watching that documentary, the song just came to me. It was like I wasn't even writing it. I was just the pilot behind the pen."
Coker has managed to secure a few awards since then. The Aaron Coker Band won the Mississippi Music Award for Artist of the Year in 2015 and earned the title again in 2016. Coker says both Parris and producer Kenny Davis, with whom he recorded the remaining five songs on the EP, have had a great influence on his musical career.
"Those two really helped get me kick-started back into music in the last few years," he says.
Coker says being a father, a grandfather and a husband (his wife, Angi Coker, is also his booking agent) keeps him quite busy, but his passion for music gives him daily motivation to continue striving for what he loves to do.
"I've been a full-time musician for five years now," he says. "I love working. I have done a lot of different types of work, but it's always good when you've finally found your calling."
Aaron Coker's "I'll Ride" EP is available now at aaroncokerband.com.