Wednesday, September 20, 2017
When this newspaper started 15 years ago this week, promising a rising creative class in Jackson on its cover, the capital city was a different place that nearly everyone said they wanted to leave. Jackson was the butt of suburban jokes, and its champions were always on the defensive. Not fun.
Two of the largest buildings in what is now Jackson's hottest neighborhood, Fondren Corner and Duling School, were empty. The Dickies building in downtown Jackson was vacant. The King Edward Hotel and the Standard Life building were shells of what they used to be. The Mississippi Museum of Art was in a much smaller space, the Art Garden was a parking lot, Jackson State University wasn't yet renovated, and midtown, south and west Jackson had seen far better days.
Over the years, city leaders and developers have entertained and flirted with a lot of development projects and ideas—some good and some bad, some that never happened, some that are still in the works—that have transformed the city into the both beautiful and blighted one that it is today.
Here is a look at what's changed and what still needs work.
Fondren's Revival
When Mike Peters was looking to buy Fondren Corner, he says the building was completely abandoned. A bank in Miami had foreclosed on it, so it had sat vacant for almost four years.
"We kind of just made a ridiculous offer to the lender, and the next thing we knew, they said, 'We'll take it,'" he says.
Near the end of renovations for Fondren Corner, which opened in 2004, Peters set his sights on renovating the nearby Duling School, which reopened as the multi-use Fondren Point building around 2007.
Peters says that he had noticed signs of economic progress in the Fondren area. Residential areas such as Woodland Hills were improving; Nejam Properties bought what is now known as Fondren Village; a few years ago, Peters Realty sold the property where Cups Espresso Cafe in Fondren is located, and the new owners brought in Fondren Public and expanded the Cups space. A new generation of artists were coming onto the city's art scene.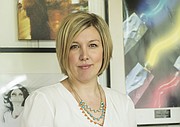 In 2003, artist Ginger Williams-Cook taught studio art at Camp Windhover in Crystal Springs, Miss., where she met artist Josh Hailey, who was teaching ceramics at the camp. On a 24-hour break, she and Hailey took a road trip to Jackson, where Williams-Cook met Jason "Twiggy" Lott and William Goodman.
"We immediately clicked, and talked about art, and talked about how that's all we wanted to do was be artists," she says.
Williams-Cook says that at the time, Goodman was living in Belhaven but was preparing to move into Fondren Corner, which was in mid-construction at that time. She began to collaborate with Goodman, Hailey and Lott, including on large-scale canvases for Fondren Corner's new apartment tenants, art for the tables and walls at Rooster's, and the first mural at Walker's Drive-in. Williams-Cook moved back to Jackson in 2004 and got a studio in Fondren Corner.
"It was just this really cool community of people that valued each other's talents, and services and so you really felt the sense of community," she says now.
That same year, Hailey moved there, and other artists and creatives such as videographer Jason Marlow began to move in.
"We just had this hub ... of different artists," Williams-Cook says.
A college professor had told her that she didn't necessarily have to go to L.A. or New York to make art. "Go wherever you find a creative pulse," he told her.
Fondren was where she found the creative pulse, she says, and the prominence of the neighborhood's art scene served as one catalyst to build the city's art scene as a whole.
daniel johnson, who does not capitalize his name, says the biggest difference in the creative community between 13 to 15 years ago and now is that audiences are connecting better. Back then, he says, audiences from rock shows would not necessarily attend hip-hop shows, and people who went to art galleries would not also go to dance performances. But today, businesses like Offbeat create space for many of the creative communities in Jackson, he says.
Mississippi Museum of Art Director Betsy Bradley says she has seen pockets of activity over the 30 years that she has been involved in the arts community. Now, though, the pockets have become more integrated into Jackson's economic and neighborhood development.
"What's going on in midtown, you can't imagine it happening if there weren't artists and creative people over there working all day every day," she says. "... The way that those efforts are helping shape neighborhoods is exciting."
More Entrepreneurs Now
Funmi "Queen" Franklin, who owns business incubator the Kundi Compound in midtown with her husband, Brad "Kamikaze" Franklin, has noticed a rise in Jacksonians becoming entrepreneurs, and also the growth of the progressive and creative demographics in Jackson.
"People are very involved in state and national politics, and there seems just to be an overall blanket of care that maybe hadn't been as prevalent before," she says. " ... It seems like the driving force to see change has grown over the last couple of years, maybe 10 years, and it seems to be going forward in years. People seem to just care a little bit more."
She says that more people are also creating more businesses, these days, it's not so much brick-and-mortar; its people tapping into their talents and building on them.
"There is a network and movement going on to support and encourage that in the city," she says.
Brad says that he has seen the creative and artistic scenes blossom not just in a traditional creative sense, but also in that they have become economic drivers in the city.
"Our arts and our creative community now is one such that it is drawing people into the city," he says.
One thing he has seen change is the comedy scene, which local comedienne Rita Brent says is why she has been able to have a successful career as an entertainer.
"From my perspective as an entertainer, the city is growing," she says.
Downtown: Down , Up
Fifteen years ago, the King Edward Hotel was still decaying after 30 years of being left vacant, and the picturesque Standard Life building only housed the Jackson Police Department, with most of the rest of the space unused.
That year, HRI Properties approached David Watkins about turning the King Edward into a luxury hotel. The company received a $2-million loan from the Mississippi Development Authority to do selective demolition, test the building's structural integrity and remove the asbestos that had accumulated. It got another $3.5 million in a community-development block grant for furniture, fixtures and equipment, and then tax credits and private investments for the rest of the funds.
After $90 million in renovations, the King Edward reopened as a 186-room Hilton Garden Inn and a luxury apartment complex in 2009 with many locals just walking into the lobby and staring in disbelief at a transformation many said would never happen. Then, Watkins set his sights on the Standard Life building, and nine months later, it reopened with 76 apartments and 2,671 square feet of retail space.
Ironically, it was around the time of the King Edward and Standard Life renovations and Fondren's Renaissance that downtown slowly began to lose businesses.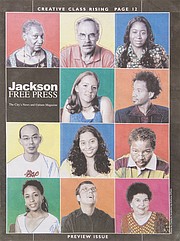 "You had like, four or five major, major Jackson businesses leave downtown," Peters says. That included Butler Snow, HORNE CPA & Business Advisors and Cellular South (now known as CSpire). "All of that happened over the course of (about) 24 to 36 months, and it just really ... damaged downtown," he says.
daniel johnson moved to Jackson from Houston, Texas, when he was 13 to a house just north of Siwell Road right outside the city limits. Fifteen to 20 years ago, he would go to the Living Room Coffee House & Grainery Cafe on Capitol Street across from the bus station, nestled in a business strip with The Library and the Midnight Sun.
"That little strip between Mill Street and Gallatin Street was kind of the nightlife that I knew of in downtown Jackson," he says. "Stephen Barnette (a co-founder of the Jackson Free Press) was hosting raves in the back of the Living Room in the Starplex Amphitheater; Chane's store was there."
Eighteen years ago, he says the Java Parlor opened up on the other end of Capitol Street, and Downbeat Grooves & Gear opened east of the King Edward.
"You had this Capitol Street thing kind of happening, where you might actually walk from one end of the other in downtown in the course of an evening," he says.
These days, the nightlife scene is much less active. "I walked a group from the King Edward to (Underground) 119 back in May, and they were from all over the nation, and couldn't believe how dark it was," johnson says.
However, restaurants, both chains and locally owned ones, now populate the area, and earlier this year, a candy store, Sugar Ray's Sweet Shop, opened across from the King Edward Hotel in 2016, and a convenience store named Downtown Snack Shop opened in 2016 across from what used to house concert venue Big Sleepy's. After Big Sleepy's closed on Jan. 1, Cowboy's Saloon later took its place.
A little ways from the King Edward, the Capitol Art Lofts, which BlackWhite Development proposed in 2013, is poised to open this month. The Westin Hotel on Congress Street opened in August.
"(Downtown) is just now, in my opinion, finding their way kind of back out of the bottom and starting to rise back slowly again," Peters says. "They've got a ways to go, but they're coming back."
Making Master Plans
Midtown has long experienced fits and starts, but it has been on the rise over the last 15 years. Community organization Midtown Partners first formed as the North Midtown Development Corporation in 1995 to socially and economically revitalize the neighborhood, which was a prominent African American neighborhood in its heyday.
About 10 years ago, NMCDC launched a master-planning process with Duvall Decker Architects.
Duvall Decker's research in the master plan shows that when the planning process began, the neighborhood had 30 businesses, three churches, seven educational facilities, two parks, six nonprofits and two major institutions—Millsaps College and Baptist Hospital.
Architect Roy Decker says Duvall Decker has worked in neighborhoods in Jackson that have been affected by suburban flight for the last 20 years.
"That's been ongoing since the '70s, and neighborhoods have suffered. There's been more and more abandoned properties, higher crime; there's been derelict buildings, and so neighborhoods have been suffering in Jackson," he says.
Prior to Duvall Decker getting involved, Decker says that the neighborhood had built 200 Habitat for Humanity Houses, so people were getting into good housing and out of poverty. But property values were still dropping, the neighborhood still had crime and drug problems, and people were still abandoning properties.
"That master plan was an effort to think about urban redevelopment, inner-city redevelopment, in a different way," he says. "Rather than draw a picture of a nostalgic, new version of what used to be there, our approach was, 'Well, let's find out what's valuable here; let's found out who lives here; let's find out what the stories are and what the stakeholders really are; and let's also study the economy of the land.'"
As a neighborhood becomes more and more vacant, he says, property values drop, and that means home and business owners cannot borrow money, and a person could end up owing more than the value of the house, trapping them in the mortgage. He says the midtown master plan was a way to change the way developers think about urban planning besides just providing more single-family housing, and to try to strategically intervene in the neighborhood and increase the density.
The research identified five strategic initiatives that would improve midtown: housing, health, making midtown a mixed-use neighborhood, improving safety and security, and ecological planning, including a diverse, energy-efficient neighborhood and addressing flood-control needs.
After the completion of the master plan, NMCDC and Good Sam became one entity—Midtown Partners. The neighborhood began partnering with Millsaps College's Else School of Management on projects such as business incubators The Hatch and The Hangar, and getting businesses such as Lucky Town Brewing Company into the neighborhood.
Midtown Partners has also rolled out projects such as Midtown Public charter school and Decker says Midtown Partners is working on a plan to expand the parks and schoolyards by Brown Elementary School and Rowan Middle School. The neighborhood now has 42 more houses, including sustainably built housing and renovations to existing housing, and midtown also has a health center.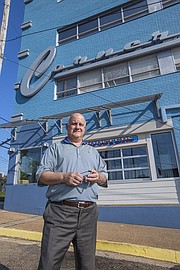 The plan, Decker says, was to encourage growth so homeowners could begin borrowing money and fix their houses or buy the lots next to them, and get new homeowners in the neighborhood. He says that has happened in the last year.
While artists such as Josh Hailey have had residencies at The Hatch, three food businesses—Sweet & Sauer, Mississippi Cold Drip Coffee & Tea Co. and FEAST Specialty Foods—currently occupy the space. The Hangar is home to businesses such as Kamie's Kreations, The Reclaimed Miles and Red Squared Productions.
Over the last few years, businesses like comic-book shop Offbeat, wellness- and creativity-centered business Jax-Zen, and exhibition space AND Gallery have opened in midtown.
Duvall Decker applied the strategy in the midtown master plan to the west Jackson master plan, spending about a year talking to residents and neighborhood associations and community institutions and stakeholders and develop a grassroots initiative and understanding.
Decker says that the plan in west Jackson is newer, completed about a year and a half ago, so it has not had as much time to mature into projects. However, Decker says that Jackson State University is using it to secure grants in community-development projects, and neighborhood organizations have been contacting Duvall Decker to understand some of the data better.
"We see good things coming out of that, too," he says.
With JSU Goes Jackson
Margaret Walker Center Director Robert Luckett lived in Jackson until the second grade, when his family moved to Rankin County. He left the area in 1995. In 2009, he returned to be a history professor at JSU and to take his position at the Margaret Walker Center, and for the first time as an adult, he was going to live in the city. He says that the day he went on campus for his job interview, JSU's transformation blew him away.
"It was great to see what Jackson State had evolved into and to be coming into a new part of the future Jackson State," he says. "I knew very well that as Jackson State went so did the city of Jackson, as one of the largest employers, as the primary educator of particularly black Jacksonians but also the primary source of education for black teachers in Jackson Public Schools, the role of Jackson State in the city of Jackson is a high one."
The changes included new housing and campus expansion. One University Place, which is at the corner of Dalton and Lynch Streets and is the largest private development in west Jackson in 30 years, opened in 2010. Along with apartments, the building also houses businesses such as Gallery1, which has had art exhibits that featured the likes of artists such as funk legend George Clinton.
In 2012, the campus' welcome center opened. JSU also opened a satellite campus in Madison. In 2014, the university adopted EKO the Sumatran tiger at the Jackson Zoo as a way to help the zoo increase its membership. The arch in front of the exhibit at the zoo has been painted blue and white.
Medical Booms
Though areas of the city such as downtown began to decline economically 15 years ago, the city's health-care industry began to thrive. The Jackson Medical Mall began renovations in 1996 and opened its first clinic in 1997. Now it is home to health-care services, University of Mississippi Medical Center offices, retail shops and commercial services, and more.
"The Jackson Medical Mall, over the past 15 years, has become a stable entity that really is a model nationwide for what you can do with large-scale empty architecture," johnson says. "... Now they're at a point where they're expanding beyond traditional medical services and their mission of holistic wellness that includes housing and economic empowerment."
In 2016, the mall held a grand opening for the East Village Estates, which is comprised of 44 single-family townhomes that low-income residents can lease for 15 years, in the Prosperity Street and Homestead Heights community. After the 15 years is up, they have the opportunity to buy the houses at $50,000 fully financed. The medical mall also opened retail space Woodrow Wilson Place in 2016.
UMMC has also expanded its services and campus. In 2003, the hospital began its first telehealth project with three pilot hospitals. UMMC's Center for Telehealth now has locations across Mississippi and offers care in areas such as radiology, dermatology and pediatric services.
In 2014, the hospital opened the Memory Impairment and Neurodegenerative Dementia Center, which is dedicated to discovering treatments and cures for Alzheimer's disease and related forms of dementia, and the University Physicians Pavilion. This year, the hospital started its UNACARE Health Clinic in midtown.
The medical center is currently one of the largest employers in the state of Mississippi with more than 10,000 part- and full-time employees. UMMC currently represents 10 percent of the Jackson metro area economy and 2 percent of the state's economy.
A Culture Corridor
Earlier this year, colorful lights and light-centered exhibits took over downtown's "culture corridor"—the intersection of Pascagoula and Lamar streets where the Mississippi Museum of Art, Arts Center of Mississippi, Thalia Mara Hall, Russell C. Davis Planetarium and Jackson Convention Complex sit. The first annual Mississippi Light Festival created chaos, but in a good way.
Children and adults stood around an area where a woman performed scientific demonstrations that consisted of mostly blowing things up; models in neon body paint glowed as they danced in the windows of the Jackson Convention Complex; people trailed around the arts center, looking at all the different lights and exhibits and taking selfies; graffiti art danced on the back of the building; and light exhibits covered the Art Garden.
The event even created a rare traffic jam in downtown Jackson.
The museum also hosts Third Thursday each month, bringing in food trucks, artists, local people and more for exhibits, movie screenings, music, food and fellowship.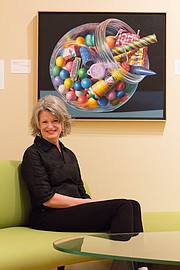 Fifteen years ago, events like the light festival and Third Thursday probably would not have been possible. The art museum had been in the arts center space for 24 years, and museum Director Betsy Bradley said it had outgrown that space.
"We had the upstairs gallery, and the atrium, and all of our staff was over there," she says. "... We needed more exhibition space, we needed more storage space, we needed more state of the art technology in terms of climate control and security and things like that."
The museum began looking at the different options, including looking at spaces outside of downtown Jackson and even contemplating building a new space from the ground up. After the initiative for the convention center passed in 2004, Bradley says that they knew that it would want to remain part of the cultural complex and strengthen Jackson's attractiveness.
The building where the art museum is now was vacant. The city, which owns the building, had used it for exhibitions, office spaces and temporary courtrooms, so the museum decided to look into renovating the space for a new art museum. It took $15 million to renovate the building and another $5 million to create the Art Garden, which, back then, was just a parking lot. Bradley says that museum management felt that the garden could be a connecting space between the arts center, art museum and Thalia Mara Hall, and it would also add a green space to downtown Jackson.
"We felt like this was kind of a gift we could give to downtown and to the city," Bradley says. "It also served as a kind of beautiful, interesting way to approach the museum."
In 2007, the Mississippi Museum of Art moved to its new space, and in 2011, the museum completed the Art Garden.
In 2009, the Jackson Convention Complex opened. Beginning in 2013, Thalia Mara Hall received $5 million in renovation, including getting updating the HVAC unit, new chairs, carpet, restroom renovations and better compliance with Americans with Disabilities Act standards. Since Thalia Mara's reopening in 2014, the venue has hosted events such as the USA International Ballet Competition, the Experience Hendrix tour and more.
The Foodie Scene
In the last 15 years, Jackson has significantly upped its foodie game, with new, mostly locally owned restaurants frequently coming and going.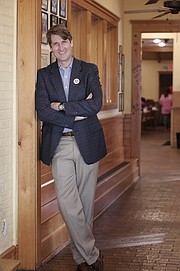 In 1994, Jeff Good and Dan Blumenthal opened BRAVO! Italian Restaurant & Bar. In 1998, the duo opened Broad Street Baking Company, and in 2007, they opened Sal & Mookie's New York Pizza & Ice Cream Joint.
Good and Blumenthal have been in the business since the early '90s so they've been able to watch the food scene grow and change.
"The food scene (today) is vibrant," Good says. "A lot of young talent across the board has started to develop, and I'm very excited that so many have been able to gain capital to open their own concepts and bring their talents to market."
Over the years, he says, people have been concerned that the development has been mainly in northeast Jackson and the suburbs, but he has also seen the south and west Jackson food scenes grow.
Asked the reason for the push toward locally owned restaurants, Good points toward the upward trend in restaurant development over the last decade. People are eating out more, so there's a higher demand for restaurants, he says. While Jackson has followed that trend, he says, we're also a relational city and enjoying knowing business owners.
"The rise of the independents in our community comes from a willing and accepting populace," Good says. "Jackson is not a city of transients. We're not a city that has a myriad of corporate offices, and people are coming and going and following their career paths, and they do their three to five years, and they're out."
It's a different area than places such as south Florida or metropolitan Texas. "We're a hometown, and we like hometown heroes," Good says.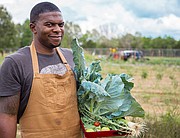 Mississippi Museum of Art Culinary Director and The Palette Cafe Executive Chef Nick Wallace says the food scene developed from people developing their palates and also competition.
"That has pretty much changed where we are from the last decade," he says.
He says that Mississippi is becoming a food state.
"I think we all are seeing food a little bit differently and knowing how important food is," he says. "I think we had a delay of people not knowing where their roots came from, then all of the sudden in the last decade, you hear about ... farm-to-table."
He says that people lost that connection to food, but now we are back on track and headed straight up.
"I think that goes from the Delta, that goes all the way to the Oxford area, and to the city of Jackson as well," he says.
What Needs to Change
Former Ward 6 City Councilman Tyrone Hendrix, who was born and raised in Jackson and whose parents met at JSU, says that though the city has changed for the better in some ways, in other ways, it's remained the same.
"I think we're still dealing with a lot of the same issues that we have been fighting and for and advocating for since (2002)," he says. That includes fighting for public-school funding, improving infrastructure, and attracting and retaining businesses in the area.
However, Hendrix believes that Jackson is a stronger community than back then, "probably because ... the things that we're fighting for have caused us to come together," he says.
One example, he says, is how the community has come together during the state's recent move to take over Jackson Public Schools.
"Hopefully we'll continue to be stronger," he says.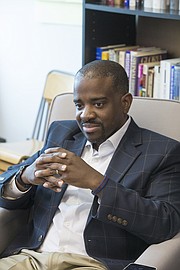 New Horizon Ministries Executive Director and former mayoral candidate Ronnie Crudup Jr. echoes the sentiment.
"With the issues we've had around the JPS takeover, I've been very encouraged to see a lot of the community partners come together around this one particular point," he says. "I'm hoping that we can use this momentum to work on other things together around Jackson."
As someone who has been in the south Jackson community for about 22 years, he says that he has watched the area change in many ways in the last two decades, including the flipped demographics. Once, it was a neighborhood that was 90 percent white, but now it's 90 percent black, he says, and the change in the housing stock. Ten to 15 years ago, he says, the houses in south Jackson were more expensive, but now the prices have dropped.
He says that while areas such as Fondren and Belhaven have flourished, neighborhoods such as south Jackson have deteriorated. For example, Metrocenter Mall is not the same, though businesses such as Next Level Entertainment are working to revitalize the mall, which also houses some City offices.
"Things never stay the same," Crudup says. "They should change, but we always hope that they can change for the better and not the worse. So far, we just haven't seen the best things in Jackson yet."
One way to tackle our issues, he says, is for everyone to come together and come up with a plan for Jackson, from the north to the south side. "We need to have a full plan of what goes where," he says.
johnson says he would like to see more development in south Jackson. While the rest of the city has developed, that neighborhood has remained mostly stagnant.
A dwindling population and changing racial makeup mean that a lot of development has moved out of south and west Jackson, though west Jackson is slowly seeing improvements. But johnson says that the community of south Jackson is still vibrant. For example, community members still go to the tennis courts on McDowell Road and give free lessons to kids every Saturday, he says.
"It's still an active, thriving community of people," he says.
However, development dollars have pulled out of south Jackson.
"(South Jackson is) still in need of anchor businesses and enough population," johnson says. "It's not like it's empty. They've got a threshold population that I think support local business, and there's some there, but ... I'd love to see some more dollars down there."
Brad Franklin says that over the years, Jacksonians have becoming more civically engaged, and the younger generation is now a group that questions, challenges and stands up against injustices. However, there's a political hierarchy needs to continue to change, he says.
"We still have some of the same faces; we still have some of the same names; we still have some of the same ideologies that existed 15 years ago, and it's making it difficult for Jackson to be able to turn the page because their ideology is old, and it's outdated," Franklin says. "It's time now for a new generation, and a new thought process, a new younger, modern, more updated thought process to take a hold politically around here."
Maranda Joiner, the public-relations specialist for My Brother's Keeper, says that in the last few years, the morale and support for one another have shifted. The city has organizations that are extremely supportive of things that are happening in Jackson, she says, but a lot of that tends to happen in silos.
"What I would like to see happen with the city is that feeling that I get when I'm with my individual groups of friends or organizations to happen as a whole in the city and for that to be seen outside of the city," she says.
Wallace points to another issue in Jackson: Our food scene is on the rise, but we are being more segregated when it comes to food.
"You don't really have a mixed bag, like a truly mixed back of different cuisines," he says. "South (Jackson) looks like south. Some of your northeast parts look like northeast, and west looks like west. I would love to see Jackson bring all those things together and everybody work together.
"The cultures and all are shying away from each other, versus I think that it looks even better, and it comes off the right way because everybody equally wins when everybody is in a mixed bag kind of situation."
Wallace says that a way to change this would be different organizations having open business meetings. "People have to be openly open to this stuff, too," he says.
Civil Rights and Social Justice
Jackson also still has to deal with the repercussions of the Civil Rights Movement and social justice.
Over the last few years, the city of Jackson has shown that it is willing to address those issues, from local organizations such as Dialogue Jackson hosting dialogue circles to address issues of race and inequity to the night the Jackson City Council unanimously passed a resolution against House Bill 1523, an intersectional statement that might not have happened in Jackson 15 years ago when the JFP initially took flack from some in Jackson for featuring gay and lesbian couples in the newspaper.
Since Mayor Chokwe A. Lumumba took office in July, everyone is looking to the new administration to see how they will make Jackson better.
"I'm really attracted to Mayor Lumumba, his economic take on kind of an all-of-the-above strategy that includes traditional ... developers but also looking at cooperative business models," johnson says.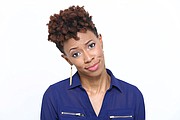 Currently, Rita Brent is working on a documentary about the hidden gems and jewels in Jackson, and says that through that, she has been able to discover pieces of the city.
She says that it was through her work on the documentary that she got to take a tour of the Medgar Evers home, the Smith Robertson Museum and Cultural Center, and AND Gallery, which two local artists, Adrienne Domnick and Tyler Tadlock, own.
"When it comes to the city, all you hear is coverage of crime, which is important ... but I think a good balance would be helpful to change the narrative and the image of the city," Brent says.
The comic says that one of the ways people are working to change the narrative of Jackson is through social media with the hashtags #wearejackson and #goodthingsjackson. She says that it is impactful when people see good things in Jackson.
It sure beats focusing on the negative. And that is probably the biggest change now—some still bash Jackson, but the center of gravity for the Jackson metro is now back exactly where it belongs: right in the middle of the capital city.
EDITOR'S NOTE: We took out the section on the Farish Street controversy pending further updates on the project.
CORRECTION: In the original version of this story, we misspelled the name of local business Kamie's Kreations as Kamie's Creations. Also, Stephen Barnette was doing lighting for raves at the Starplex Amphitheater, not throwing them.
CLARIFICATION: In the story, we quoted daniel johnson as saying that Jackson hip-hop audiences would not attend rock shows 15 years ago, when he had said the reverse was true.
The JFP apologizes for these errors.
Top Stories