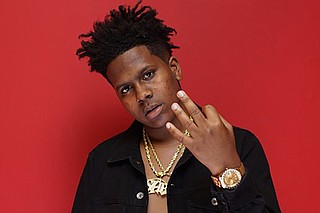 JACKSON, Miss. (AP) — Police in Jackson say a rapper has died after someone shot into the vehicle he was driving and it hit the front of a house.
Jackson police Sgt. Roderick Holmes says the shooting happened Sunday night, killing 22-year-old Lonnie Taylor of Jackson.
News outlets report that Taylor's stage name is Lil Lonnie. He has several videos online.
Holmes says a woman in the vehicle with Taylor was not injured.
Lonnie was a fan of music ever since his older brother, Lorenzo Taylor, and friends introduced him to hip-hop culture. He began his career making beats for other local artists as a freshman at Callaway High School. Growing up in the poverty-stricken Virden Addition neighborhood, Lonnie was subjected to recurring gang violence, which became a common theme in many of his songs.
Lonnie graduated from Callaway High School in 2013 and went on to pursue an associate's degree in general studies at Hinds Community College in Raymond. The rapper quickly realized he was meant to take a different route, and in August 2014, he transferred to Jackson State University, where he studied mass communications. He released his track "I'm the Type" that fall, and a few months after, he released his first successful songs, "Colors" and "Special."
"Colors" received national attention after it went viral in the summer of 2015, and several popular entertainment websites featured his music, including Billboard, which later premiered his single "Change Up" in May 2016.
In November 2015, Lonnie dropped his first mix tape, "They Know What's Going On." The project quickly amassed more than 180,000 streams and more than 100,000 downloads. He released his second mix tape, "They Know What's Going On 2," in June, bringing in many popular names from the industry, including Bryson Tiller, Slim Jimmy of Rae Sremmurd, K Camp and Moneybagg Yo. On July 18, 2016, he released another project, "The Big Three," a collaboration that introduced the new sounds of three local deejays: DJ Moneycure, DJ Jukebox and DJ Dream.
Danie Matthews provided the information on Lonnie's background and music. Read her full 2016 article on Lil Lonnie here.
Top Stories