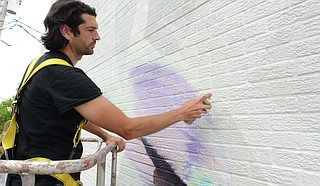 Jackson native Douglas Panzone has built his own business from the ground up through producing large-scale murals on commission. His past projects include a wall mural for the HBO show "Vice Principals" and two floor murals for the courtyard at the George Street Apartments, both in Charleston, S.C.
In May 2018, he took on a mural project in Belhaven Heights and completed it within two weeks. Panzone says the mural, which features two children superimposed onto an image of the Mississippi State Capitol, supports a theme of linking the past and present in Jackson.
"It's about making kids aware of historic preservation," he says.
Panzone says he liked to draw while growing up, but in high school, art took hold when he started taking painting lessons from the late Jackson artist Lynn Green Root. Eventually, Panzone got into graffiti-style art and then began doing large-scale works with spray paint after moving to South Carolina to attend the College of Charleston in 1999.
"I transitioned from doing mostly graffiti-style work when I wanted to learn realism," he says.
After he graduated with a bachelor's degree in studio art from the school in 2003, he worked in interior trim carpentry but continued painting on commission. He started painting full-time in 2007.
"I built up a client list, so that I could quit my job and fall right into this," he says.
While Panzone primarily works in the medium of spray paint, he does not adhere to a specific style. His website, douglaspanzone.com, showcases many of his past works, including a mural featuring a mouse with a tiger face guarding a maze, and one with a cartoonish bird against a photorealistic skyline.
"I'm all over the place," he says. "I might do (a mural) that's geometric, and I might do one that's portrait work."
Panzone says it was fun to come home for the Belhaven Heights project, and spend time with all of his friends and family in Jackson.
"Many of my friends (from Jackson) are making art professionally—William Goodman, Josh Hailey, Matthew Puckett and Ginger Williams Cook," he says. "It was awesome to see them and be a part of what they're doing."
The artist says he always seeks out robust opportunities to develop and get better at his craft.
"My goal is to keep doing bigger, more ambitious projects," he says. "I want to keep evolving, either technically in skill or in scale."
Top Stories