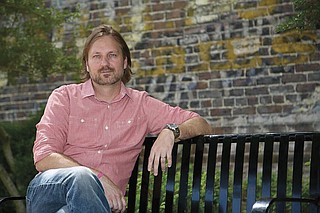 Jack Boucher barrels down a Delta road in his truck, his bruised and bloodied hands swapping between a bottle of bourbon, a bag of pills and an envelope full of cash. The first two items are for him—something to dull the pain from more than two decades of bare-knuckle boxing. The money, on the other hand, he owes to Big Momma Sweet. Even worse, he is about to lose every dollar.
That is where readers join Oxford, Miss., author Michael Farris Smith on his latest thriller, "The Fighter" (Lee Boudreaux Books, 2018, $26), which hits shelves on March 20. He began working on the novel shortly after finishing his critically acclaimed third book, 2017's "Desperation Road." Rather than a story idea, Smith says "The Fighter" started with an image—a middle-aged man, broken down due to years of physical wear and tear.
"I immediately imagined a bare-knuckle cage fighter, and I imagined a guy who had probably concussion after concussion that would've gone untreated," he says. "So that led me to the brain injuries he might have, which would lead to loss of memory, and the emotional issues that people who suffer from those things go through. Then, how would he treat it?"
From there, Smith says, the character caught fire, becoming clearer and clearer as he developed the story of "The Fighter." Instead of working from an outline or predetermined plot, he just continued to write, which led to the book's other lead characters, Jack's beloved foster mother, Maryann, and the free-wheeling carnival worker Annette, whom he befriends.
"One of the things that I've learned is that if you sit around and think about it, nothing's really going to happen," Smith says. "But if you sit down and work on your story, and you keep driving these characters to their limits, eventually it's going to occur to you where they all belong, what their relationship is and what it means. Those are the best days: when you hit that moment where you realize why the paths cross or where they're crossing, and the impact of that collision and what it all means. I never really know what's going to happen, but I'm always very excited when I figure it out."
One of his biggest discoveries through working on the book was the world that it inhabits, a seedy corner of the Mississippi Delta. Smith says that he had long wanted to set a novel in the Delta, having spent time there over the years, but his decision to set "The Fighter" there came from writing the aforementioned Big Momma Sweet, a powerful player in the South's underbelly who is a looming threat to Jack throughout the story.
"When I began to imagine Big Momma Sweet and the kind of deep, dark place she would have that could be hidden away, where she could really be in control—I don't know. For some reason, my mind wandered out to those dark, flat Delta lands, and I thought that would be the perfect place to put her," Smith says.
He also saw it as a mirror to Jack's isolation, which follows him from his childhood abandonment to his struggling career in the ring as an adult. Once Smith had selected the Delta as the setting, he says that he went about researching as he has for every other project that he has written.
"I got my feet in the dirt. I've had drinks and gotten to know some locals, spent some time hearing the language, and just really participated in what's going on over there. I mean, my expense report, under the heading of 'research,' there's a lot of bar tabs," he says with a laugh.
For more information, visit michaelfarrissmith.com.
Top Stories