Wednesday, August 21, 2019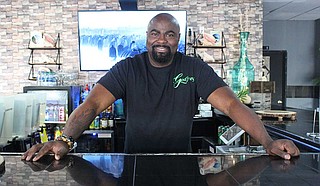 Godfrey Morgan's upbringing in Ocho Rios, Jamaica, was full of water, sun and great Caribbean food, he says. His grandmother, Emiline Leer, was a chef who owned her own restaurant, and after seeing her in action, he decided to pursue a career in the culinary arts.
"A memory that sticks out is the smell. When you go into the kitchen, and she's cooking, like, it just makes you happy. It smelled so good," Morgan says.
The biggest lesson he learned from his grandmother was how to approach and respect food, he says.
"(Treat) it with love. When you're cooking something, you have an idea of how you want it to look and taste. That's my version of respecting the product," he says.
Morgan graduated from Baracca Beca High School in Jamaica in 1994 and moved to Jackson, Miss., in 2001 to attend Hinds Community College for culinary arts. While in school, he worked at BRAVO! Italian Restaurant & Bar and Bruno's Eclectic restaurant as a line cook.
After graduating from Hinds in 2004, he opened Godfrey's Takeaway. It closed two years later, and he moved to Memphis, returning to Jackson in 2007 when his wife at the time, Wanda Macon, got a job as a professor at Jackson State University. Morgan began working at the Diamond Jacks Casino as an executive chef.
That same year, JSU was looking for its first executive chef for its student union building. He applied for and got the job, working there for 10 years while catering part-time.
In August 2018, while waiting at the airport in the Bahamas to return from a catering event, he checked his voicemail. He had 13 messages of people wanting him to cater, he says. He went to work on Monday and by Wednesday turned in his resignation letter, deciding to cater full-time.
Around Jan. 1, 2019, he bought the building for Godfrey's, a restaurant that combines Carribean, Asian and Southern cuisine. He opened the restaurant on March 14. The original plan was to do just catering, but that soon changed as his food was in high demand, Morgan says.
His menu is inspired by a culmination of cultures. Popular dishes on the menu include oxtail, sticky ribs, jerk chicken spring rolls, fried chicken and lobster-shrimp toast. Sometimes, customers eat one dish at the restaurant and take one to go, the chef says.
"It's a presentation of me," Morgan says. "Everything I like and stuff I like to mix together."
Morgan has not done a lot of advertising for the restaurant, he says, but it's always packed because one person comes and tells someone else about the food. In the future, he wants to open up another location in Jackson and one out of the state.
Godfrey's is open Monday through Wednesday from 10:30 a.m. to 2 p.m. for lunch and 4 p.m. to 8 p.m. for dinner, and Thursday and Friday from 10:30 a.m. to 9:30 p.m. For more information, visit find the restaurant on Facebook.
Follow Jackson Free Press reporting intern Aliyah Veal on Twitter @AliyahJFP. Send tips to [email protected].
Top Stories