Wednesday, November 13, 2019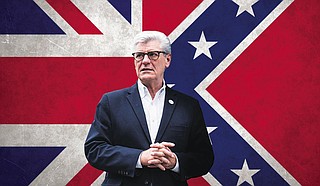 Prince Charles spotted a stranger in Buckingham Palace. He walked over to the man, whose well-groomed silvery-white coif, blue eyes, pink nose and dark navy pin-striped suit matched the tiny American flag on his lapel.
"Your royal highness, I'm the governor of Mississippi," the then-62-year-old Republican, Phil Bryant, said in his fast-spoken country accent.
"You are? What on earth are you doing here?" the posh prince replied, raising his eyebrows as he echoed a question Bryant's constituents have puzzled over, or at least the ones who know about their governor 's increasing forays into British politics.
"I'm also the chairman of the Royal Commonwealth Society USA," the 
Mississippian said, referring to an organization he launched in Jackson in 2017.
"Is America back in the Commonwealth?" the royal replied.
"Well, part of it is, and I'm in charge of it," Bryant said.
"Well, carry on," the heir to the 
British throne said.
Bryant shared the story of that November 2017 meeting in London this past July at the launch of his latest United Kingdom-related initiative named World4Brexit, a U.S.-based dark-money group that supports the United Kingdom's expected exit from the European Union. An attendee provided the Jackson Free Press with a video of the governor's until-now-unreported remarks. Former Trump Campaign Manager Corey Lewandowski was among those in attendance.
The launch happened just a day after the U.K. Conservative Party's Boris Johnson became the new U.K. prime minister on a promise to "deliver Brexit"—a pledge he is still trying to fulfill after his strong-arming tactics prompted a revolt in his own party in September, causing the Conservatives, also known as the Tories, to lose their parliamentary majority.
After Johnson missed a Halloween deadline to get Parliament to agree to a Brexit plan, Johnson dissolved the body on Nov. 6, fearing the body's composition as it stood would have never reached an agreement. That kicked off a new election, and Johnson hopes Britons will not only return the Tories to the majority, but give him enough supportive members to make Brexit happen by the end of the year.
Funding U.K. Propaganda?
World4Brexit's backers incorporated it in Ann Arbor, Mich., and promise in its literature to "provide a much-needed global voice for people who support Brexit and back the belief that 'the will of the people should prevail.'" The chairwoman of the group is Californian Peggy Grande, who served as President Ronald Reagan's executive assistant after he left the White House.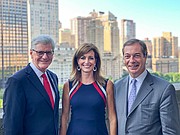 The organization says World4Brexit will not only work to sell Brexit to the 
international community, but will also "build 'watchdog' groups to investigate media bias and expose the funders behind 'Remain'" (referring to the 2016 anti-Brexit campaign); use research for "targeting business leaders, opinion leaders and media"; and "use paid media to get our message out." It is opening offices in Washington, D.C., London and Brussels.
World4Brexit's literature also notes that the group plans to hire lobbyists in Brussels. Brussels serves dually as the capital city of Belgium and of the 
European Union. Any plan for the U.K. to officially leave the E.U. will depend, largely, on trade and exit negotiations with the European Parliament.
President Donald Trump's former top adviser, Stephen K. Bannon, has separately been leading an effort in Brussels, called The Movement, to urge other countries to exit the European Union. Brexit Party Leader Nigel Farage, a close friend of 
Phil Bryant, revealed at the group's launch party in July that Bannon, who is pushing for a far-right-wing awakening worldwide, is informally advising World4Brexit.
Both xenophobia and a belief in "white" majorities seem to drive Brexit. U.K. voters narrowly passed the referendum in 2016 to separate from the E.U. (a "British-exit"), driven in large part by a revanchist attitude toward the influx of 
immigrants, including the 2015 refugee crisis that saw thousands of Syrian refugees claim asylum in the U.K.
"All studies show that anti-immigration was the key motivation for the Brexit vote and for support for far-right parties," Cas Mudde, a University of Georgia professor of international affairs and the author of "The Far Right Today," told the Jackson Free Press.
Bannon and Bryant see the successes of Brexit and Trump as parts of a global nationalist uprising.
"Right-wing populist nationalism is what will happen," Bannon told The Daily Beast in 2018. "That's what will govern. You're going to have individual nation states with their own identities, their own borders."
Mudde says it's "ridiculous" to 
attribute rise of radicalism all to Trump or Brexit, though, arguing that "the radical-right wave predates Trump by two decades" and "has been more strengthened by the responses to the 9/11 terrorist attack in 2001 than the so-called 'refugee crisis.'"
Britons who are weary of leaving the E.U. fear the Bannon-and-Bryant-backed World4Brexit organization could use U.S. loopholes to skirt the U.K.'s more strict campaign-finance laws and to then funnel money back into U.K. pro-Brexit efforts.
World4Brexit is officially registered as a 501(c)(4) nonprofit social-welfare organization, the same U.S. designation the NRA uses that allows it to accept donations up to $5,000 without having to disclose the name of its donors. Donors can be national or international.
Chris Matheson, a Labour politician who was a member of Parliament until Johnson dissolved the body in early November, raised concerns in a July letter to the U.K. Electoral Commission that "501(c)(4) organizations have for years sat at the heart of scandals in US politics, and campaigners have long argued they provide a backdoor route for incredibly wealthy individuals to subvert democracy."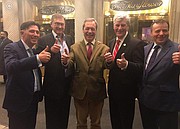 One British reporter, who requested anonymity to avoid trouble with their employer, expressed similar concerns.
"Setting World4Brexit up in the U.S. seems like a fairly simple way of hiding where the money is coming from and then using it to fund propaganda in the UK," they said. "Where that money actually originates, though, I can only guess. It's also a good way of hiding who controls W4B as well, given the only listed director I could find was a lawyer with no major political involvement elsewhere."
Phil Bryant's office did not return requests for comment for this story.
'How in the World ... ?'
That reporter, like others familiar with Bryant's efforts, still finds it strange that the governor of a small U.S. state is so involved in British affairs.
In Bryant's telling, though, it all began in the summer of 2016, as Donald Trump bulldozed toward the Republican nomination in the U.S., and Britons headed to the polls to decide whether to stay in or leave the E.U.
On June 23 of that year, Phil and Deborah Bryant sat glued to a television in the governor's mansion in downtown Jackson, eager to find out how U.K. citizens had voted on the referendum. Against expectations, the U.K. narrowly voted to leave the union that binds 28 European states together politically and economically.
The pro-Brexit Leave.EU campaign and figures like Nigel Farage had fanned racist fears, with warnings that implied that the E.U. would allow an "invasion" of non-white immigrants unless the U.K. severed ties. The message was similar to Trump's own anti-immigrant crusade and one that has invited comparisons to Adolf Hitler's propaganda about Jewish "infestations."
Without knowing that the British government would still be struggling to find a way to implement that vote three years later, the Republican governor turned from the television to his wife on the evening Brexit passed.
"This is Trump's first victory," he said.
"Are you crazy?" Mississippi's first lady replied to her husband.
"No, watch. This is that movement. This is something that the pollsters and the media and our friends can't understand. They have no idea," he said. "It's sort of like me getting elected governor. How in the world did that happen?"
Months later, in January 2017, Bryant was celebrating Trump's inauguration at a private party in Washington, D.C., when he recounted that story. Some of the very political operatives who led the charge in the Brexit campaign in the U.K. and the Trump campaign in the U.S. were in the room. The Jackson Free Press found footage of the remarks in a little-noticed YouTube video.
"This is Great Britain, and it's going to be Great Again," Bryant told those gathered.
The Republican politician is certainly not the first Mississippi governor to support a state's plan to secede from a multi-state union. In 2018, the Sons of Confederate Veterans, a neo-Confederate group, gave Bryant an award named for John J. Pettus, the Mississippi governor who oversaw the state's secession from the American union over slavery in 1861. But Bryant seems to be the first to entangle himself in a foreign U.S. ally's own secession effort.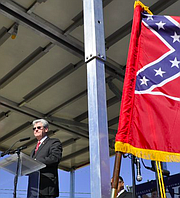 The Jackson Free Press revealed to the world in February 2016 that Gov. Bryant had declared April "Confederate Heritage Month," but with no mention of slavery.
Brexit did not kick off a civil war, but it has not gone smoothly. Since the initial vote, it has destroyed the premiership of two British prime ministers, including former Conservative Party Prime Minister Theresa May, whose teary-eyed resignation this past summer followed repeated failures to break a parliamentary deadlock over how to implement it. Johnson is fighting to avoid the same fate amid a rocky start.
Bryant, who has an affinity for the politics of chaos, claims he first signed on for the betossed cause after a chance meeting with a man from the far-right fringe of British politics: Nigel Farage, the Brexit Party leader with ties to Bannon.
Like Trump, Bannon and Farage, Bryant has fanned the flames of right-wing anti-immigrant rhetoric. As state auditor in 2006, he commissioned a report in Mississippi that claimed immigrants cost taxpayers millions of dollars in education, health care and law enforcement. The report, which contradicts national studies that have found immigrants contribute positively to the economy, admits in its own introduction that it is not a comprehensive analysis.
In August, Bryant praised the ICE raids that swept up nearly 700 workers at Mississippi poultry plants, leaving dozens of kids with no parents to pick them up from school and countless families devastated.
Sara Wallace Goodman, a University of California Irvine political scientist who wrote the book, "Immigration and Membership Politics in Western Europe," said it is ironic that nationalist leaders would form a global alliance around an anti-globalist cause.
"It's this really interesting phenomenon that we refer to as global nationalism, which is a contradictory term, right? ... That's a really new element—a sort of trans-continental network of nationalists," Goodman told the Jackson Free Press. "They fund each other; they're all illiberal. That's the commonality they share. They oppose liberal values, which include tolerance, recognition of diversity, equality and individual rights."
With his Confederate Heritage Month declarations and affiliations with neo-Confederate groups, Bryant might seem like a throwback in many ways, but it is not wholly surprising that right-wing American politicians like him would partner with anti-immigrant nationalists around the world, she said.
"I think the global element is just kind of a conduit or a mechanism in which old or latent attitudes can find new voice," Goodman said. "So there is this argument about contemporary illiberalism. Is this new illiberalism, or is this just sort of resting illiberalism that has suddenly found the courage in a new, accepting environment to speak louder? ... But the motivation is almost irrelevant. The fact that they kind of come together and move forward together—you can have a coalition of strange bedfellows or a coalition of like-minded individuals all working for the same goal."
Mudde told the Jackson Free Press that he thinks Farage has an additional motive: "Money. Nigel Farage is making a lot of money through his appearances in the U.S. media and speaking circuit. There is much more money in politics in the U.S. than in Europe."
'Licking the Jar'
At the private inauguration party in 2017, the Mississippi governor recalled how he first met Farage, whom he now considers a close friend, at the 2016 Republican National Convention in Cleveland, Ohio. Early on the morning when Bryant was set to speak at the RNC, Farage's team and members of Bryant's staff were still up drinking at a hotel lounge when they ran into one another.
The Mississippi delegation told Farage that the governor was a fan. Hours later, Bryant aide John Bartley Boykin burst into the governor's hotel room, waking him up with news of the chance encounter. 
Bryant, eager to meet the pro-Brexit politician he had seen on TV and in online video clips, invited Farage to Mississippi.
Several weeks later, in late August 2016, Bryant entertained Farage and a host of Brexiteers at the governor's mansion in downtown Jackson, including multi-millionaire Leave.EU financier and co-founder Arron Banks.
"In real old-school style, the ladies said goodnight, and the men went into the converted garage outside, which was full of motorbikes, old Chevy cars, comfy chairs, a full bar and the best tobacco the South could offer," Banks wrote, describing that evening in his 2016 book, "The Bad Boys of Brexit."
Within weeks, Farage and Banks joined Bryant for a Trump rally at the Mississippi Coliseum in Jackson. Trump called Farage up to join him onstage, hugging him and congratulating him on the Brexit referendum's success. The bombastic U.K. politician and radio host recounted the Leave.EU campaign's story before swooning over the "promise" he saw in Trump, with their shared hatred of the so-called "establishment." He further endeared himself to the future president by bashing Trump's then-Democratic opponent.
"If I was an American citizen, I wouldn't vote for Hillary Clinton if you paid me. Anything is possible if enough of the American people stand up against the establishment," Farage said to 
rapturous applause in the capital city.
The thousands of Mississippians who showed up were enthralled with Farage, Bryant recalled at the inauguration party.
"And they were drinking the Kool-Aid and licking the jar. They were fired up. This man had spoke their language. They understood what he was talking about," the often-awkward governor said, perhaps unaware that "drinking the Kool-Aid" refers to the 1978 Jonestown Massacre. Hundreds died in a mass suicide there after drinking 
poisoned Kool-Aid at the urging of The People's Temple cult leader Jim Jones.
At the Jackson rally, Trump pumped up the crowd with anti-immigrant language, pushing back against Clinton's warnings that he would separate undocumented immigrant families. The then-GOP nominee told supporters he would focus, instead, on American families who had been the victims of immigrant crimes—an eerie foreshadowing of his administration's eventual policy of separating immigrant and refugee families, with children often locked in cages that resemble dog kennels for months, while adults languish in private prisons.
What Trump and Farage showed the Mississippi crowd at that rally, Bryant told supporters at the 2017 inauguration party, was that "if you're dedicated, and you're pure of heart, you can help change the world."
"And my friend Nigel Farage and Donald Trump did just that," he said.
Public-affairs consultant Kristi Gunster posted the video of Bryant's comments to YouTube in 2017. As of Nov. 1, 2019, the clip had just 63 views. In it, her husband, Gerry Gunster, introduces Bryant and Farage. Gerry Gunster is the CEO of Gunster Strategies, the political consulting firm that Leave.EU hired to engineer its public messaging strategy in 2016.
'A Campaign 'of Fear'
While Robert Mueller was investigating Russian meddling in the U.S. election during the years after Trump's victory, the U.K. government conducted its own investigation into possible Russian attempts to boost the pro-Brexit campaign. American authorities and the Mueller report affirmed that Russia had undertaken significant steps to sabotage Clinton's chances in the U.S. to help Trump win. U.K. investigators completed a report on their investigation into Russian interference there last month, but the government is refusing to release it until after the Dec. 12 parliamentary elections.
Investigators say Putin sought to provoke mayhem in western nations that had complicated his efforts to reclaim territory that was once part of the old Soviet Union—like the Crimea region of Ukraine, a nation thrown into turmoil by Russian military incursions in recent years. Ukraine is now the centerpiece of the Trump impeachment inquiry, after the president threatened to withhold congressionally approved military aid unless Ukrainian President Volodymyr Zelensky agreed to launch a sham investigation to hurt Trump's potential 2020 Democratic opponent, Joe Biden.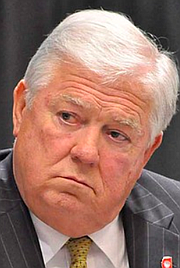 Donna Ladd and Nick Judin wrote an explainer on the Mississippi connections to the Trump impeachment inquiry.
In 2018, U.K. investigators fingered another source of possible electoral interference: Cambridge Analytica, a consulting firm Steve Bannon co-founded with the billionaire Mercer family, who are top American donors to Republicans.
By tricking Facebook users into taking personality quizzes that granted the company access to personal information, Cambridge Analytica harvested the data of nearly 100 million Facebook users in the U.S. and U.K. With the help of tech wizards, the firm used voters' personal information to build what they called "psychographic profiles" that used that data to predict behavior and discern what kinds of messages would get the desired response out of each voter. Cambridge Analytica then used that data to micro-target voters with ads tailored to their personalities—including ads that promoted fake news stories.
Cambridge Analytica not only used the profiles to evoke rage in white Trump-leaning voters in the U.S., but also to target Democratic-leaning African American voters in swing states with messages designed to dissuade them from voting at all. Those ads often cast Hillary Clinton as suspect on race-related issues or downright hostile to their concerns.
In both countries, the ads raised the specter of mass immigration to instill fear in more conservative voters. The U.K. ads also promised voters that Brexit would bring improvements in national services, like the country's National Health Service.
In her new book, "Targeted: The Cambridge Analytica Whistleblower's Inside Story of How Big Data, Trump, and Facebook Broke Democracy and How It Can Happen Again," former Cambridge Analytica Business Development Director Brittany Kaiser, an American, reflects on the work she helped carry out in the U.K. before becoming a whistleblower later.
"Now, looking back on that period, I see that such messaging was terribly flawed and even criminal; from fear mongering about funding for government services to the imagery of immigrants and terrorists storming the border, the Leave campaign was one of fear," she writes.
'Wiggy' and 'Banksy'
Last year, Kaiser testified to Parliament that Cambridge Analytica worked with Leave.EU. She claimed she worked with Banks and Leave.EU Communications Director Andy Wigmore to develop proposals for the U.K. Independence Party (which Farage once led), Leave.EU and Banks' company, Eldon Insurance. In Kaiser's book, she writes that Banks calls him "Wiggy"; in turn, Wigmore calls Banks "Banksy."
"Banksy" has denied Kaiser's claim that Leave.EU worked with Cambridge Analytica, and "Wiggy" has accused her of lying. But a YouTube video of a 2015 Leave.EU event shows Kaiser sitting on a panel next to Banks and Gerry Gunster, who discusses the campaign's focus on data.
During her 2018 testimony, Kaiser also testified about Big Data Dolphins—a data firm similar to Cambridge Analytica that Banks, with Gov. Bryant's help, was setting up at the University of Mississippi's Insight Park. Banks' critics fear the company may possess U.K. voters' data.
"I was recently made aware of a data company set up by Arron Banks called 'Big Data Dolphins,' soon after he ceased negotiations with Cambridge Analytica," Kaiser said in written testimony to the U.K. body last year. " ... This company has reportedly worked with a data science team at the University of Mississippi. If the Mississippi team has held or processed U.K. citizens' data in the U.S., I believe it is likely to be a criminal offense, although it is for the empowered authorities to pursue any such question and secure the associated evidence."
The university denied taking part in any data storage or data transfers in 2018.
Kaiser alleged that Banks cut ties with Cambridge Analytica after working with the firm for five months, saying he refused to pay a £41,500 bill. She alleged he copied Cambridge Analytica's "data mining" tactics to use for the Big Data Dolphins project, and may have combined data from UKIP and Eldon Insurance with Facebook data to create its own psychographic profiles.
In April 2018, Magnolia State Alive's Alex McDaniel reported that Bryant had helped negotiate Banks' efforts to bring Big Data Dolphins to UM's campus and that the governor had suggested Wigmore help set the project up. Then-Clarion-Ledger reporter Bracey Harris later reported confirmation from Bryant's office.
"Upon learning that Eldon Insurance was planning to begin a new research effort at the University of Scotland, Gov. Bryant suggested to Eldon leadership they should look into doing research at a Mississippi university," Bryant spokesman Knox Graham said in the statement. "Ultimately, they were connected with the University of Mississippi. Gov. Bryant has full confidence in the University of Mississippi to make any decision regarding their relationship with Eldon Insurance."
U.K. Private Data in Mississippi?
The Fair Vote Project, a group of U.K. residents who fear their data may now be in the custody of Big Data Dolphins in the U.S., have been suing the company since last year in a Hinds County chancery court. Despite Banks' and UM officials' denials that the company ever stored personal information on U.K. citizens, propaganda and Cambridge Analytica expert Emma L. Briant provided Parliament with a recording in which Wigmore seemingly contradicted that claim.
"So we've started an operation in Ole Miss University in Mississippi which is the center for artificial intelligence in the world, who knew? ... So we've set this up in Mississippi," Wigmore says in the recording. "It's been going for nine months. We've been testing for 12 months now, testing all the insurance against it and it's extraordinary."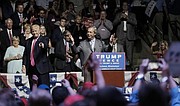 Freelance journalists J.J. Patrick and Wendy Siegelman investigated the project, with Patrick reporting in Byline in November 2017 that Wigmore told him Big Data Dolphins was "already fully functional" and "based out of Bristol and Mississippi for insurance (and) financial services." In 2018 testimony, Banks told the U.K. House of Commons that the UM project had been delayed and amounted to no more than "empty office space" with "no staff."
Wigmore, he said, was referring to operations at the Bristol branch in southwest England—not in Oxford, Miss.
"Eldon is an insurance broker. Big Data Dolphins is a company set up to do (artificial intelligence) and analytics in the insurance industry. The plan was to hire graduates and people like that to work on our insurance big data project," Banks told members of the U.K. Parliament.
Fair Vote U.K. is currently working with the Carson Law Group in Jackson, which also does legal work for the Jackson Free Press, to convince a Hinds County Court to force Big Data Dolphins to turn over data it may have on U.K. citizens. Last year, Big Data Dolphins and Eldon Insurance asked the court to dismiss the case on the grounds that the plaintiffs do not have proper jurisdiction. The court agreed.
Since then, more information has come to light. In November 2018, the U.K. Information Commissioner's 
Office fined Eldon £60,000 and Leave.EU £45,000 after finding that Eldon had used customers' data to send 300,000 political marketing emails.
"Just as Eldon used Leave.EU to promote its own agenda, and likely used Leave.EU's data to inform desirable customers of the services Eldon provides, Eldon also may have used the data collected by Big Data Dolphins at the University of Mississippi for this purpose, in clear contravention of European data laws," an April 2019 filing in Hinds County from the plaintiffs reads.
"Specifically, the House of Commons found, between Eldon and Leave.EU, 'there was no attempt to create a strict division between the two organizations, in breach of current laws.' Certainly, it would be naive to believe that Eldon would not share this same 'porous relationship' with Big Data Dolphins, a company (one employee's) emails indicated was created for the very purpose of mining data."
In September, the U.K.'s National Crime Agency announced that, after an extensive investigation, it had cleared Banks of wrongdoing relating to speculation that he may have used Russian money to fund pro-Brexit activities. The Observer raised those concerns when Carole Cadwalladr and Peter Jukes reported that documents suggested Banks had "multiple meetings with Russian embassy officials in the run-up to the Brexit referendum."
Beyond Big Data Dolphins, Banks and Bryant's relationship has continued in other ways, with the billionaire appearing with the governor at a college football game in Mississippi. The BBC reported that Bryant was on the guest list for the 2017 launch of Westmonster, a Banks-funded right-wing news site in the U.K.
'The Great Phil Bryant'
Since 2016, Bryant has also forged a close alliance with Gerry Gunster, who helped him launch the first Royal Commonwealth Society in the U.S. When Bryant first traveled to London to discuss launching the American branch, he rebuffed suggestions that it ought to be opened in New York.
"No, no, it needs to be in Jackson, Mississippi, and I'll run it for you," Bryant recalled saying, in his speech to those gathered for the World4Brexit launch.
The U.K. Royal Commonwealth Society in Jackson claims on its website that its focus is on fostering better relations between Mississippi and the U.K., as well as on tackling human-rights issues like sex trafficking. At the time of its launch, its backers said that it would solidify relations between the two countries, which are currently negotiating a trade deal that will take effect only after the U.K. finalizes Brexit negotiations.
In June this year, Bryant appointed Gunster to the organization's board of directors.
"Gunster is well known across the nation and internationally for providing strategic advocacy to a wide spectrum of clients. His involvement will expand the reach of RCSUSA as we look to grow and raise awareness across the country," Bryant said in a press release at the time.
Gunster said he looked forward to further RSC's "mission to advance human rights, democracy, and sustainable development, through youth empowerment, education and advocacy."
At the World4Brexit event a month later in July, Bryant said the group had plans to expand activities to Africa, and is currently working on a White House malaria initiative.
Gunster, though, has continued to work for the Brexit cause.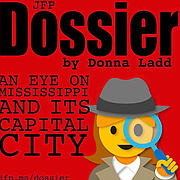 Read the Jackson Free Press editor's weekly report on government and media accountability in Mississippi.
"Mr. Farage said that W4B was still in a 'start-up' phase, and has been organised 'at the American end' by Gerry Gunster, the political strategist who in 2016 helped Leave.EU, the unofficial referendum campaign for the UK to leave the EU," Financial Times U.S. Editor-at-Large Gillian Tett reported in July.
Other pro-Brexit figures continue to swirl in the governor's orbit in Mississippi. In October, World4Brexit chairwoman Peggy Grande visited Jackson for a $250-a-plate fundraising dinner with the 
Mississippi GOP to honor the Bryants, who will leave the governor's mansion when his second term ends in January.
On Nov. 1, Wigmore appeared at a Trump rally for Mississippi Lt. Gov. Tate Reeves, who four days later won the election to succeed Bryant as Mississippi governor. Wigmore tweeted a photo of "the great Phil Bryant" while the governor was giving a speech. Grande attended the rally as Bryant's guest.
At the World4Brexit launch, the 
Mississippi governor echoed Bannon's hopes that Brexit and Trump represent the start of a global right-wing populist takeover—which experts like University of London historian of Europe Andrea Mammone have compared to past efforts by Americans to foster fascism in Europe.
"We just believe that Brexit was what started all (of this)," said Bryant, who has made four trips to London since 2016. "Y'all might not remember this, but President Trump was tweeting out that Brexit was going to pass and that Great Britain would be great again. ... And it did. And that wave moved across the globe, and I think it still is."
CORRECTION: In the original story above, a quote from Cas Mudde contained a typo, listing the year of the September 11 attacks as 2011 instead of 2001. It is now corrected.
Follow State Reporter Ashton Pittman on Twitter @ashtonpittman. Send story tips to [email protected]. Read more Brexit coverage at jfp.ms/brexitboys.
Top Stories