Wednesday, September 30, 2020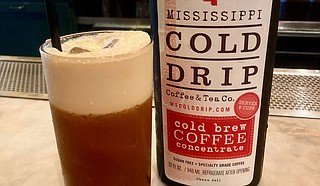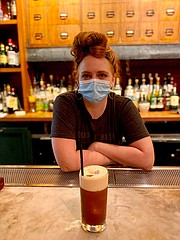 I worked backward to create this "coffee sour." I knew exactly how I wanted the cocktail to look in its glass: I imagined a dark chocolate, coffee color in a tall collins glass with an egg white foam to mimic frothed milk. It was very important to me that this cocktail contained no dairy; I personally cannot stand dairy with my alcohol, but I wanted the Brooks Brewning to drink velvety, like an iced latte—hence, the egg white. The touch of ginger is a perfect start to the morning (think early kickoff pre-games) or to bookend an evening after a rich meal as a digestif. Yes, I named this cocktail after myself, and, yes, I smirk each time a guest says, "I'll have the Elizabeth Brooks Brewning."
Elizabeth Brooks Brewning
Ingredients:
• 1/2 ounce ginger syrup
• 1 fresh egg white
• 1 ounce Four Roses (or preferred bourbon)
• 1 ounce Amaro Averna
• 1 ounce Mississippi Cold Drip Coffee concentrate
• Ice
Instructions:
In a cocktail tin, dry-shake (no ice) ginger syrup and fresh egg white. Add the final three ingredients with ice and shake vigorously for another 20 seconds or until a foam forms. Strain into a collins glass and fill with ice. Lastly, top the drink with an espresso dusting or candied ginger slice.
Top Stories