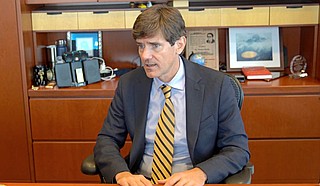 COVID-19 cases and hospitalizations are both on the rise, thanks to the continuing spread of the more contagious Delta variant throughout the state. 78% of reported cases from between June 16 and June 25 were from the Delta variant, State Health Officer Dr. Thomas Dobbs said in a Tweet from July 7, indicating that the variant has already pushed out less contagious variants.
The state is "now seeing the predicted rise in case, hospitalizations and COVID like illnesses," Dobbs said of the variant's spread. "If you are not immune, not vaccinated please be careful."
The Mississippi State Department of Health reported 2,649 cases this week for an average of 378 cases per day, a significant increase over the past two months before the Delta variant became the dominant strain in the state.
In a July 2 press briefing with the Mississippi State Medical Association, Dobbs noted that 93% of deaths in the past month are unvaccinated individuals while 96% of new cases are found in those without vaccines.
"It is the unvaccinated people who are dying," Dobbs said. "The unvaccinated people who are going to the hospital, the unvaccinated people who are getting diagnosed for the most part."
Dobbs noted that the state is unlikely to see the kind of daily case numbers seen last winter, but that unnecessary deaths will still occur. He likened Mississippi's deaths to the collapse of a condominium in Florida, which has so far claimed 78 lives.
"Not being doomsday about it, but people are gonna die unnecessarily," Dobbs said. "Like the tragedy of the folks that we lost in Florida, there may be some survivors, but we're going to lose that many people about every month in Mississippi by not being fully vaccinated."
As the vaccine spreads the chances of further variant mutation increase, and a new variant dubbed Lambda is now working its way through at least 30 countries. First reported in Peru, preliminary information from various governments indicates the new variant may be deadlier as well as more contagious than the Delta variant, but so far it makes up less than 1% of cases in the United States.
So far, MSDH reports no cases of the new Lambda variant in the state. Mississippi retains some of the lowest vaccination rates in the country however, at 31% of the population receiving full vaccination compared to the national average of 48%.
Meanwhile, the Mississippi Department of Transportation is offering free rides to vaccination sites to try and help raise vaccination rates across the state. Rides are available to all, though MDOT emphasizes that help is available for those with difficulty transporting themselves, such as those with disabilities and the elderly. More information is available by calling MDOT's toll-free line 1-866-813-3616.
Email Reporting Fellow Julian Mills at [email protected].
Top Stories