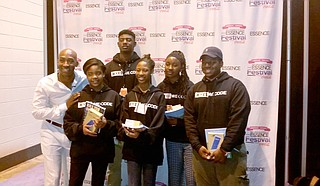 After sharpening their skills at the state's largest hackathon event, several Jackson-area schools flexed their coding muscle in New Orleans to win top prizes.
The overall grand prize went to a team of students from Provine and Terry high schools, as well as Bailey Academic and Performing Arts Complex. The prizes included new Samsung Galaxy 4S tablets and a six-month mentorship from Matt Kurt, the chief officer of a New Orleans-based e-commerce company called Turbo Squid. Other schools that finished strong were Murrah, Wingfield and Callaway high schools, as well as Clinton Christian Academy, Sumner Hill and Clinton junior high schools, and Olde Town, Cordoza and Lovett middle schools.
Perhaps it was home-field advantage for the first leg of the journey. The hackathon took place from June 30 to July 1 at the Jackson Convention Complex, where 20 metro-area students competed against 60 others from the southeast as a part of a "digital freedom ride" aboard Estelle's Brilliant Bus—a customized mobile learning center that Estelle Pyform, an advocate of digital learning and coding for under-served students, founded.
The hackathon was part of the TECHJXN Innovation Summit, which used the ideas and foundations developed by #YesWeCode, a national initiative to help train 100,000 low-opportunity youth become high-level computer programmers.
"We have proven that when you empower students and expose them to opportunities that showcase their creativity and problem-solving abilities, they can accomplish truly amazing things," Rhea Williams-Bishop, executive director of the Mississippi Center for Education Innovation, said in a release.
YesWeCode representatives were on hand to train mentors, guide team activities and prepare students for their final presentations at the 2015 New Orleans Essence Festival. The students worked in teams to brainstorm mobile application ideas and develop and prototype their apps with the help of volunteer mentors.
The hackathon provided participants with a wide range of areas to explore. They researched topics including bridging the digital divide, improving education, reducing health disparities and helping cities address infrastructure issues.
After the Jackson hackathon ended, the teams traveled to New Orleans to improve their prototypes and presentations. A panel of celebrity judges, including multiple Grammy Award-winning artist India Arie, chose four winners from the 17 teams. Kwame Anku, director of strategic development for #YesWeCode, an initiative of Dream Corps Unlimited, presented awards to the winning teams.
"Our kids are talented, creative and capable of competing in today's tech-driven innovation economy. We must ensure they have the infrastructure in place to expose them to opportunities that cultivate their talents," Jackson Mayor Tony Yarber said in a release. "This summit and hackathon will serve as a catalyst for a long process of developing a viable and accessible on-ramp to the innovation economy for all Jackson residents."
Top Stories