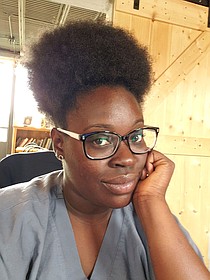 Editorial Assistant Azia Wiggins is a proud "Jacksonian Ju" with an extensive science background, but she's a God-fearing, carefree songbird at heart. She loves owls, Skittles, learning new things and growing relationships with amazing new people.
Recent Stories

What you got up for this weekend? If you're still wondering, take some time to read through my upcoming picks. Looks like it's going to be a wet weekend, so stay dry, stay masked up, socially distanced and stocked on allergy meds.
It's Easter Weekend, so you know what that means: an extended weekend to do more of what we love with those we love. If you're looking to see what the tri-city area has to offer you and yours this upcoming week, check out my picks.

What's on your to-do list for this upcoming weekend leading into next week? If you need a good starting place before making plans, check out my picks to see if anything moves you.
If you're needing some insight on a few of my favorite things to do in the tri-city area this weekend, go ahead and read below for my picks. Stay safe and accountable out there good people!

What are your plans for this weekend? If you're open to suggestions, check out a few of my fave events for this weekend.

Despite the dire circumstances, we have been creative in our ways of engaging one another and we keep finding ways to steadily enjoy what the tri-city area has to offer where we can mingle safely. Check out my picks and find a way to escape this weekend.

Once it's completely safe to travel again, if you're looking for something fun to get into, whether virtually or mingling with friends and family publically, I hope my picks can get you started.

If you are trying to get out and get involved in some lovey, dovey activities to share with partners or—for us single folks—find creative ways to share love with your friends and family, check out my picks.

I challenge us all to take our learning and including Black history to a deeper level this year. Do some private research into the rich history of Mississippi and maybe find a new Black hero or shero to learn more about or to simply be inspired by.

Whatever your goals are, be kind and patient with yourself and treat yourself to some fresh air and sun this weekend. If you need some help filling up some free time, check out my picks. Be safe out there!