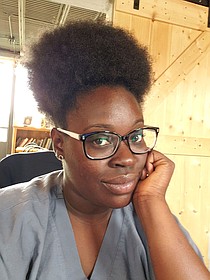 Editorial Assistant Azia Wiggins is a proud "Jacksonian Ju" with an extensive science background, but she's a God-fearing, carefree songbird at heart. She loves owls, Skittles, learning new things and growing relationships with amazing new people.
Recent Stories

Whatever you decide to do to unwind this weekend, I hope my picks for the upcoming week pique you interest. Don't let another day past this week without doing something you enjoy.

I hope you find your niche for the weekend as you chill with those you love, starting right here with my fave event picks for the week. Please be wary of the pending storm as well, and stay safe out there!

I believe that October is a month for digging deeper, healing buried trauma and forging a better version of ourselves. Although the journey can be uncomfortable, the fire is necessary for refining.

I don't know about you, but I'm in desperate need of a recharge and this time of year is the perfect time to welcome in new manifestation vibes. I hope my picks for this week can jumpstart your first fall weekend and that you take in what the city has to offer with those you love!

I hope you are able to spread your wings into the crisp looming fall breeze and take time to enjoy your weekend. Here's my top picks to get you started!

Please take time to rest this weekend. I'm elated to start you off on your quest to relax with my event picks for this upcoming week!

"What are you toiling, tilling, replanting or uprooting during this season? I care ask you, can you stand the rain? (shoutout to New Edition)"
There are many events happening in the Capitol City that we can enjoy with one another despite these uncertain times. Please get some sun and breathe in some fresh air. Take some time to gaze at the heavens and laugh until your sides hurt.
In Mississippi, will it take bodies piled up on North State Street outside of UMMC before we all stand hand-in-hand, unafraid to collectively unite and govern ourselves?

Good afternoon, fellow Jacksonians! Despite the heavy losses many of us have had to endure this past week, we are still here to live and love again. For that I am grateful.