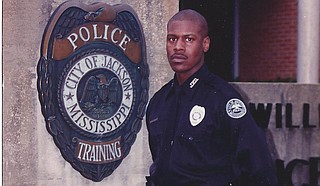 On April 14, the City of Jackson, Presidential Hills Neighborhood and the Jackson State University family celebrated the homegoing of a wonderful police officer, neighbor and Tiger. Officer Allen Harper passed away recently after suffering injuries from an accident when a car pulled in front of him while he was riding his motorcycle.
I've known Officer Harper since he was in middle school. Ever since that time, all he wanted to be was a police officer. In fact, I remember when his neighbor, then-Police Detective Earl Clowers, helped him become a member of the force. So while the City of Jackson takes time to remember one of the "good guys" who understood being an officer as an act of serving and protecting his community, the residents of Presidential Hills and alumni of JSU celebrate the life of our homeboy, brother, son, cousin, nephew, uncle, classmate and friend.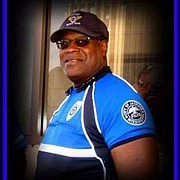 From the moment I met "Junior" Harper, which is what we all called him, his smile and his quirky but hilarious sense of humor made him special. He was truly a person who never met a stranger, and he loved to tease people as a way of breaking the ice. More importantly, despite his intellect and serious desire to serve others, he never took himself overly seriously. In fact, he made a point of using his humor to expose the silliness behind much of what the rest of us thought was so serious.
His wit was often an insightful probe of any act of foolishness that left one wondering why we do all the foolish things we do. It was this intellect, humor and concern for humanity that informed his work as an officer of the law.
Just a few weeks ago, I saw Junior in passing, as I often did, and informed him that I got the chance to see him in his official role as peace officer. Although I was a distance from them, sitting in my car at the traffic light at Capitol and Pascagoula streets, I saw a police officer engaging what appeared to be a homeless person and realized, "That's Junior Harper!" Just before I yelled "hello" to him from my car—for you folks not living in Mississippi, that's what we do—I noticed the care and, dare I say, tenderness by which Junior engaged the person along with another officer.
Now, it didn't seem that Junior and the other officer were in any danger from the person, as the person seemed to be a homeless citizen who either suffered from a mental illness or was inebriated. Yet, I've seen other cops mistreat and manhandle people in a similar circumstance. But not Junior. Junior, while doing his duty, was still the man that his father and mother, Allen Sr. and Ollie Harper, had raised. His concern was to keep the gentleman from hurting himself as they worked to get him help. That's why so many are lamenting the loss of Officer Allen Harper. He was a neighbor, classmate and friend of whom we could all be proud. These are the type of officers we want patrolling our neighborhoods.
Junior was practically raised on the JSU Campus, as his mother, Nurse Harper, has been head nurse at JSU for at least 25 years or so, making Junior a lifelong Tiger. Because I'd known him since he was a child, it was often difficult for me to resist yelling and calling him "Junior" when I would see him, even when he was in uniform. Once, he was working a JSU Football game, and I yelled as loudly as my Delta mouth would allow, "Junior Harper, What's up main!," and my wife elbowed me in the side and said, "Allen is a grown man and a police officer. Stop calling him Junior in public." Before I could feel bad, Junior flashed that wide grin of his that made you just want to smile in return. God, I'm going to miss that grin of his.
There are too many stories to share here—how I've eaten fried fish and fried chicken at his mama's house. I've sat on that carport with him and his two sisters, Kathy and Regina, along with the rest of the Presidential Hills Van Buren Street gang: Eric, Reshonda, Ricky, Junior Albert—as you can see, there were two juniors in our midst—Tara, John, George, myself, Robert Von Eric, Big Mike, Li'l Mike, Dewayne, Sam-I-Am, them Hayes Boys, Clyde and Glen, and others I know that I'm forgetting. We'd walk up and down the street all day and night, going from one house to the other, eating, laughing and playing basketball, football and baseball. And Junior was right there, always ready with a joke.
I'm so glad to know that he was able to fulfill his dream of being a police officer, and I'm so glad that his family and friends were blessed to see him grow into the man that his parents wanted him to be. I'm so glad that he was able to pass that legacy onto his own children, ensuring that others will continue to be blessed and inspired to fulfill their potential. We say goodbye to our brother, son, cousin, nephew, uncle and friend, and we thank Jehovah for blessing us with his life. His time may have been short, but his impact has been grand. For those of us who knew him, our spirits will be forever filled with the light, love and joy of his smile. Rest in peace, Junior; you've accomplished what God intended for you to do—glorify Him by loving others. If more of us followed your lead, this world would be a much better place.
C. Liegh McInnis is the author of eight books, the former editor of Black Magnolias Literary Journal and an instructor of English at Jackson State University. These are comments he made at Officer Allen "Junior" Harper's funeral on April 14. His writing has been edited.