Wednesday, August 9, 2017
Frederick Terry, who is the owner and chef at Da Shak Grill in Bryam, started learning how to cook around the age of 16.
"I learned it from my sister and my father, and when (they) were at work, I had to cook for myself," he says.
Terry credits his Jackson roots to his cooking style.
"I grew up in Jackson," he says. "... The flavors come from family, friends, (and) trying new stuff."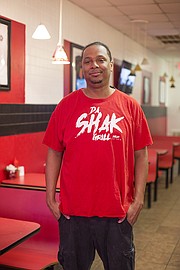 Before opening Da Shak in 2016, Terry's career path focused on promoting the nightlife scene around Jackson for several years, and he opened a previous location of Da Shak on Clinton Boulevard that closed in 2014.
"It was more of a sportsbar and poolhall," he says. "We were focused on music (and) throwing parties."
While living in Byram, he says he often drove Jackson to find the food and atmosphere he was looking for in a restaurant. He says that's what inspired him to bring Da Shak to Byram.
" ... You could bring your husband or wife, or after a football game the whole team could come here," he says.
Terry opened his business in Byram in March 2016. The restaurant has items such as fried pork chop sandwiches, chicken and waffles, and a burger topped off with Da Shak's signature Shak sauce, the ingredients of which are a secret.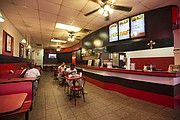 "We want to give you something that makes you (say)... my grandma's food is like this—that's what it's all about," 
Terry says.
Terry gives back to Byram the area with a Thursday special 10-percent discount to students and employees of Byram and Terry schools.
"The community is so supportive ... the young, the old, all different types of races, people from Jackson, Hazelhurst, Florence. ... It's so diverse," he says. "I'm one of the only spots with Kool-Aid, and they're always talking about it."
Da Shak also has specials during the week such as 50-cent Wing Night on Wednesday. "We're (one of the only places) with scooter wings—that's the whole wing with our special seasoning, floured and fried ... just like you grew up on," he says. "It takes you back to your roots. Over here, we believe that if you eat here once, you're going to come back."

Da Shak (5752 Terry Road, Suite A-1, Byram, 601-398-1765) is open Monday through Thursday from 11 a.m. to 9 p.m., Friday from 11 a.m. to 10 p.m., or Saturday from noon to 10 p.m.