Wednesday, August 30, 2017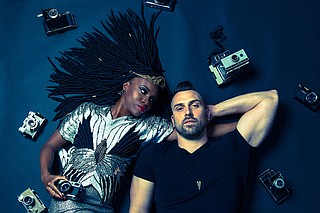 Husband-and-wife music duo Teneia Sanders-Eichelberger and Ben Eichelberger have kept themselves busy over the past few years, between making Jackson their new base of operations in late 2015 and performing around the country. Now, the band, which recently changed its name to Heart Society, is preparing to release its sixth album, "Wake the Queens," later this fall.
With this new project, Sanders-Eichelberger says they are taking a different approach and a bringing a bit of an edge to their sound to accompany their message and theme. In part, the album is a response to the presidential election and its fallout.
"This is an album about female empowerment," she says. "It's dedicated to women speaking their unfiltered truth and being unapologetically awesome."
While the band's 2015 album, "No Fakes," was more acoustic-based fare, the new record's lead single, "What's on Your Mind, Kid?," which came out in February, features grungy guitar and sharp drums. In the song, Sanders-Eichelberger sings about the ills of the world, which she says was a way to vent on her current feelings.
"I felt like I had so much more to say," she says, "and I had a genuine sense of urgency about getting it out."
With the exception of "What's on Your Mind, Kid?," the couple wrote together on every song for "Wake the Queens," which played a part in the decision to change the band name from Teneia to Heart Society. Eichelberger says the new name also reflects their outlook and mission to help people connect on a heart level.
Although they're married, the two musicians had fairly different origins.
"I first began singing in the church and school choir, so I am a classically trained vocalist," she says.
"And I was a guitar player in punk and hard-rock bands during my years in middle and high school," her husband adds.
On this album, the duo decided to let its hard-rock and singer-songwriter sensibilities come together, and "created a different kind of vibe for the overall album," Eichelberger says.
Even with the occasional creative differences, he says that being married actually helps the songwriting process flow more smoothly for the band, as they already know most everything about each other and their methods of creating art.
"(It's about) not taking things personally as artists, such as not liking each other's ideas about song directions," he says.
The move toward a full-band sound for their first record as Heart Society also allowed them to bring in collaborators. Drummer Cherita Brent, multi-instrumentalist Judson Wright, percussionist Rufus Mapp and keyboardist Marcus Singleton all contributed to the album, as well as engineer Kent Bruce of Malaco Studios.
Another big contribution to the album, however, came not from an individual but from an organization. This summer, the band received an artist fellowship grant of $5,000 from the Mississippi Arts Commission, which Eichelberger says helped the band to pay for significant portions of "Wake the Queens," including mixing. The band plans to launch a crowd-funding campaign within the next few weeks to help finish the album.
"We applied a while back, and we were very excited to be the recipients," he says. "It's great to have these kinds of resources available for creatives in the state."
For more information, find Heart Society on Instagram and Facebook.