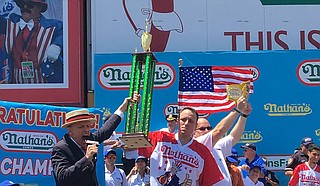 It is not unusual to overeat on a holiday, and this Fourth of July was probably no different, with plenty of hamburgers and hot dogs fresh off the grill.
While you may have eaten too much, you probably didn't put down 72 hot dogs, which is how many Joey "Jaws" Chestnut finished in 10 minutes to win the 2017 Nathan's Famous Hot Dog Eating Contest.
Chestnut averaged 7.2 hot dogs, including buns, per minute as he defended his Mustard Belt and claimed the event and its $10,000 for a second-straight year. The victory gave Chestnut his 10th victory in the event during his competitive-eating career.
Carmen "The Mutiny" Cincotti finished second in the men's event after he ate 60 hot dogs, and Matt "The Megatoad" Stonie finished third with 48 hot dogs. Miki Sudo won the women's contest with a personal-best 41 hot dogs. Michelle Lesco ended up in second with 33.5 hot dogs, and Sonya "Black Widow" Thomas finished in third with 30.
In 2005, Chestnut finished third in his first Fourth of July hot dog-eating contest with 32. Winner Takeru Kobayashi of Japan finished with 49, dominating the event.
Both men put on a show in the 2006 competition, with Kobayashi eating 53.75 hot dogs to narrowly defeat Chestnut, who ate 52.
It was in 2007 that the American finally broke through, as he ate 66 hot dogs and dethroned Kobayashi, who finished in second with 63. The two giants of the sport went at it again in 2008 when 10 minutes wasn't enough to decide a winner.
Both Chestnut and Kobayashi ate 59 hot dogs and went into overtime for the first time in event history to decide who would win. Chestnut ate five more hot dogs before his rival to take his second-straight Mustard Belt. He won his third consecutive Mustard Belt in 2009 with 68 hot dogs, outpacing Kobayashi's 64.5.
In 2010, Chestnut cruised to a win again with 54 hot dogs. easily defeating Tim "Eater X" Janus who finished with 45. There seemed to be no stopping him, as he won the event in 2011 with 62 hot dogs over Pat "Deep Fish" Bertoletti, who finished with 53. Chestnut dominated again in 2012 with 68 hot dogs to Janus, who ate just 52.25.
There was no changing of the guard in 2013, either, as Chestnut downed 69 hot dogs to beat Stonie, who ate 51. He won his eighth-straight contest in 2014 with 61 hot dogs, again holding off Stonie, who downed 56.
A major upset occurred in 2015 when Stonie ate 62 hot dogs and downed Chestnut, who ate 60 hot dogs to finish in second place. Chestnut returned on top last year to win his ninth Mustard Belt with 70 hot dogs over Stonie, who ate 53 hot dogs.
Some of the shine has fallen from Chestnut's dominance of the event since Kobayashi hasn't taken part in the Independence Day eating contest since 2010. A contract dispute between the Japanese star and Major League Eating has kept him out of the event.
The Nathan's Famous Hot Dog Eating Contest has been held every year since 1972. The event is a staple at Coney Island in New York. From 1972 to 2010, men and women competed against each other, but since 2011, there have been separate men's and women's champions each year.