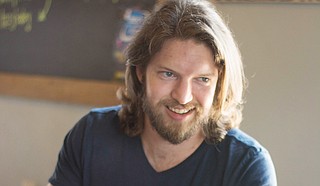 At age 12, Jackson photographer Tommy Kirkpatrick began making movies with his friends on a black-and-white camcorder. He says he spent the subsequent years working summer jobs in his hometown, Louisville, Miss., to save up for new equipment.
Through college, he lived within a 30-mile radius of Louisville and attended Mississippi State University. He says he couldn't wait to leave the state.
When he graduated from MSU with his bachelor's degree in computer engineering in 2013, Kirkpatrick landed a software-development job at ExxonMobil and moved to Houston, Texas. He lost interest in videography after high school, but a feeling struck him while in Texas, he says.
"I started to feel this wave of creativity and this desire to get back into expressing myself (through images)," Kirkpatrick says. "I would come in from work and spend the rest of the night reading, watching videos and learning new techniques. Living in Houston, I spent my weekends just shooting everything I could to practice. I self-taught for a year or so."
Kirkpatrick says he saw Mississippi in a profound new way when he returned to visit family for the holidays in fall 2013.
"I was driving back on I-55 toward Jackson, that stretch of nothing but pine trees on the side," he says. "I remember thinking, 'I miss this place.' I missed the look and the feel of it. I had this feeling that I really wanted to be back here. ... And every time after that, I noticed I would really enjoy my time back in the state. It wasn't just because it was home. Anywhere in the state felt like home to me."
Now, at age 26, Kirkpatrick shoots in Mississippi and is here to stay, he says. He moved back to the state in May 2015 and settled in Jackson in September of that year. He now works as an event and promotional photographer and videographer.
Kirkpatrick says that venturing into photography takes a learning attitude and a great deal of playing around.
"If you look at photography as what you enjoy doing and not as good or bad—'this is the best I can do right now'—that's good enough," he says. "It's not about good or bad and more about whether there were intentions put in it. A good photo is someone seeing something and saying, 'I want to show this thing the way I'm seeing it.'"
Kirkpatrick also co-owns Cascade on Tap, which supplies nitrogen-infused coffee and other drinks to establishments around Jackson, as well as businesses in Tennessee and Louisiana, with Benny Malone. For more information on his photography, visit tommykirkpatrick.com.