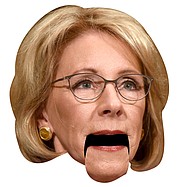 "HBCUs are real pioneers when it comes to school choice."
—Secretary of Education Betsy DeVos in a Feb. 28 statement.
Why it Stinks: DeVos called historically black colleges and universities "living proof" that more options for students means greater access and quality, when in actuality HBCUs were not so much a choice as they were a necessity for African Americans looking to attend colleges and universities back when the law barred them from "white" colleges. Integration was not an amenable occurrence, either, and several public institutions reacted in violence at integration efforts, such as University of Mississippi riots over James Meredith's enrollment in 1962. Using HBCUs as propaganda for school choice is not only inaccurate—it's as disrespectful as comparing DeVos to a young Ruby Bridges.