Wednesday, March 22, 2017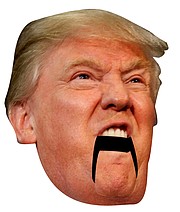 "James Clapper and others stated that there is no evidence Potus colluded with Russia. This story is FAKE NEWS and everyone knows it!"
—@realDonaldTrump on Twitter
Why it Stinks: On his personal Twitter account, President Donald Trump used Clapper's decision to not comment on the ongoing investigation into the Trump administration and campaign's ties to Russia to conclude that there must be "no evidence" of such collusions. We already know this is not true (see: Michael Flynn's resignation and Attorney General Jeff Sessions' recusal from said investigations), so to say there's "no evidence," while calling allegations of a very serious collusion fake news, is what has become the new norm of this new administration: absolute absurdity. Still, facts do matter.