Wednesday, March 29, 2017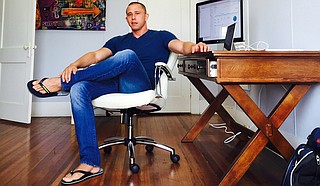 Jackson native Nader Dabit is a self-taught coder. Dabit attended Holmes Community College from 2000 to 2001 and Mississippi College from 2001 to 2002, and his major was political science. After leaving school, he worked in real estate and at Suit City, which his father, Elias Dabit, owns. His first foray into coding was an e-commerce website he created for the business.
Dabit told the Jackson Free Press that after the success with that website, he decided that coding was what he needed to do.
He founded technology meetup group Jackson Area Web and App Developers after moving back to Jackson from Los Angeles in 2013. He began working as a software developer for Mississippi-based education technology company SchoolStatus about two years ago, doing mobile app development and some website work. He is also the co-founder of React Native Training, a company that teaches coding and app development around the world.
The Jackson Free Press recently talked to him on the phone about his experience in coding, the importance of data in education, and the coding scene in Mississippi and Jackson.
How hard was it to teach yourself how to code?
I would say, maybe 10 or 20 years ago, it was a lot harder to get into, but now, especially, but even seven years ago whenever I learned how to do it, there was quite a bit of online resources for free. It took a lot of time, but there was never a time when I wasn't able to find an answer because there's so much stuff online, and it makes it really easy for people who want to learn to teach themselves.
Tell me about Jackson Area Web and App Developers.
I actually moved to Los Angeles about five years ago back in 2012 and lived there for a while. While I was there, I attended a meetup similar to the one I started here, ... and they were actually really cool events that were hosted and catered by big tech companies like Google and YAHOO! at the time, and there was a lot of free food and drinks and socializing going on there. I really enjoyed going to those meetups when I was in California. When I moved back to Mississippi, we didn't really have anything like that here, so I ended up reaching out to a couple of companies I worked with (such as CSpire Wireless and Coalesce), and they agreed to sponsor a similar meetup here, so once I secured the sponsors, I was able to start the meetups here, and we kind of used (them) to socialize and network but also to learn and teach each other different skills that we've learned that week or that month.
What has been the response to JAWAD?
So far, it's been pretty positive. When people find out we have over 500 members, they're usually shocked because (they) don't assume that there's that many people that are interested in software development around this area. 
Some people that I meet, they don't really understand or get why we do that, why we meet and what's the point of the meetups and stuff, but for the most part, everybody that hears about it and comes really enjoys coming and they usually come back.
Tell me about SchoolStatus.
I was working for CSpire at the time, and I met the guys that own SchoolStatus at a (JAWAD) meet-up. I guess they were coming to the meetup to hire developers because they were opening an office here, and I met with them, and they told me about SchoolStatus and what the company was planning on doing. I learned about the culture and everything about the company, and after talking to them, I decided I wanted to work with them, and they needed developers, so they hired me.
What does it do?
Basically, the whole gist of what we do is we make the aggregation of data a lot easier than the traditional ways. Before, schools had to gather data from a bunch of different data sources, and it was all very old-school methods of collecting data and it was a lot of spreadsheets and paper and stuff like that. We basically gather all that data electronically, and we present it to them with our web application. That's our main product is basically showing student data, showing attendance data and giving them feedback about where they stand versus other school districts and stuff like that, if they're doing well, if they're not doing well. We also have an application in our company that allows administrators to grade the teachers. ... 
 Another application that we have is a communications platform that allows teachers and parents and administrators to communicate with each other, so a parent can communicate with a teacher about if there's any difficulties or problems going on with that student. A teacher can reach out to the parent and check on them, and if they didn't show up for school for a couple of days, or if a parent has a question about why their kid has a bad grade or something, and they can reach out. The communication platform does all this anonymously, as far as actual phone numbers and email addresses, so they're basically able to communicate without exposing their email addresses or personal phone numbers.
Why is it important for teachers and administrators and to have access to this data?
... Being able to look at all this information and get a big-picture view of what's going on is very powerful because then they're able to step in earlier and help the kids because they're able to notice negative patterns a lot easier with our platform, whereas, before, sometimes it would take years to crunch all of the data for a particular set of students. By then they were already out of the school because there's just so much information to look at, so our platform very quickly lets people get an idea of where their school stands and where their classroom stands and where and when they need to step in and change things and help the kids out at an earlier stage. ... 
 The communication platform is really powerful. A lot of times, there's a lot of friction, I guess you would say, between the parents and the teachers, so we're basically eliminating that wall, and ... the second an issue comes out, they're able to reach out and get an answer without having to worry about going and finding out how to contact the teacher. People are so busy these days. With our app, they can just literally pick up their phone and communicate with the teacher or parent really quickly.
Why is it important to teach coding and technology?
... 2017 with technology is kind of where I would say the world was 200 years ago with agriculture. Agriculture at that time was kind of ingrained into everything and everything going on in business, and now in 2017, technology is basically ingrained in every single business. ... Almost every company basically relies on technology, so giving people coding abilities just opens the door for so much opportunity, especially in Mississippi because coding is something that is accessible to everybody, regardless of what family they came from, what neighborhood they were born into, what their income level is. If they have access to a computer, they can learn how to code, and they can potentially make a very high income and have a very good high quality of life.
What would you say the tech scene in Jackson and Mississippi needs?
I think we need more backing of our local politicians to take technology as seriously as they're attempting to take old-school manufacturing. Right now, a lot of politicians have kind of pitched this idea to their constituents that they're going to bring back manufacturing ideas that worked 100 years ago in the old economy that just don't work in this new economy. So instead of spending $600 million to bring a tire plant, if they instead spent $600 million in the state of Mississippi investing in technology infrastructures such as coding schools, putting computers in the hands of kids at a younger age and pushing coding curriculum, I think that would be the main thing that Mississippi is missing right now.