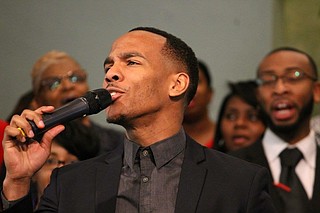 For gospel artist and producer Jason Gibson, music has been a lifelong pursuit. The Jackson native grew up in a musical family, and as a child, he learned to play the drums, acoustic guitar, piano, trombone and trumpet.
His defining moment as an artist, on the other hand, came much later, when he and his gospel group, Destiny Project, performed at a showcase that Grammy Award-winning gospel artist and TV personality Bobby Jones hosted in Nashville, Tenn., in 2014. Jones told them they were amazing, Gibson says.
"All premiere gospel artists have gone through him, so to hear someone of his stature and credibility from the gospel industry say that gave me the affirmation and confirmation of what I was aspiring to do as an artist," Gibson says.
However, Jones' words of wisdom also included a warning to Gibson that, as the leader, he should prepare for the changes that come with having a group. Over the past few years, Destiny Project has gone through changes and endured difficult cuts to its membership, narrowing to between six and eight performers, but the group emerged with a new sound and a greater level of skill, Gibson says.
"It was a messy breakup, and some people didn't understand the changes," he says. "But past supporters still do support me to this day, and every time I have a different function and fundraiser going on, they support my music."
Gibson began writing songs at the age of 19 and has been singing his own music since he was 21 years old. When he writes music, he wants listeners to notice the story behind every song because that's how the music comes to life for people and how it speaks to them, he says.
"I want the listeners to feel the build and feel the process of the music," he says.
Gibson released his latest single, "If He Brought Me," on May 23 and says that he will follow that with a new album and a book titled "It Is My Destiny" in early 2018. He will also be releasing a new single featuring the music ministry of the Jackson Revival Center, the church where he currently serves as a worship leader.
Gibson says his book takes inspiration from a documentary that Ashley Norwood produced about his journey in 2015 and aims to give readers tools to evaluate their own gifts and find their own paths.
"I hope I will inspire people to figure out the passion in their own lives and discover their destiny," he says.
Outside of touring, songwriting and speaking engagements, Gibson is also attending Jackson State University and will graduate with his master's degree in history with a focus on African American studies in the spring of 2018.
Jason Gibson & Destiny Project perform at 4 p.m., Sunday, Oct. 8, at the Mississippi State Fair (1207 Mississippi St.). The performance will take place at the Budweiser Pavilion. Admission to the fair is $5 per person and free for children under age 6. For more information, find the group on Twitter, Instagram or Facebook.