Wednesday, January 17, 2018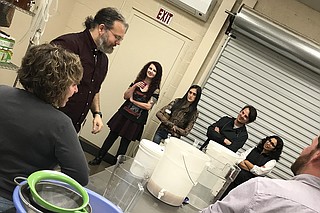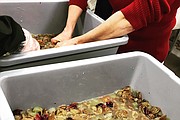 After mingling over goodies such as sauerkraut, mustard and kimchi, and a sampling of sake (Japanese rice wine), we began a sake and wine fermentation workshop at Sweet & Sauer's fermentation kitchen in The Hatch (126 Keener Ave.) on Dec. 13, 2017.
A dozen or so participants at the event went around the room introducing ourselves and naming our favorite alcoholic beverage ("Hi, I'm Julie; I'm a wine girl"). Though a small group, it represented a range of age, gender and race, and both long-time Jacksonians and several folks who were brand new to town.
Patrick Jerome, who led the workshop, took that diversity as a sign that fermentation is something that all of us have in common, so it makes sense that it would appeal to such a mixed group.
"We're (all) covered in yeast and bacteria; you may as well put some of it to work," he said at the event.
Sweet & Sauer owner Lauren Rhoades moved into her space at The Hatch in midtown in fall 2017. She has since opened it to workshops such as this one.
Rhoades told the Jackson Free Press that hosting classes on fermentation gives her a chance to share ways to make healthy food fun and approachable.
Teaching fermentation, which she calls "the anti-fast food," is a way to revive the ancient tradition of the techniques and "incorporate them into our modern worlds," she said.
At the wine workshop, we literally got our hands dirty in that ancient tradition, rolling up our sleeves and crushing muscadines for wine.
"We have a lot of fruits around here (in Mississippi) that aren't great to chow down on but are good to make wine with," Jerome told the Jackson Free Press.
At the event, he said that learning the basics of the technique, rather than a specific recipe, would allow us to go home and experiment with other bases—he suggested strawberries, blueberries and figs.
After crushing the fruit to extract the juice, the muscadine juice and skins went into quart-sized glass jars—the skins would add color to the wine—along with yeast, which turned the sugar in fruit into alcohol. Though we did wash our hands before crushing the fruit, Jerome stressed that we didn't need to sterilize anything. Bacteria, in this case, are friends, he said.
"People get really nervous about germs and act like we have to be separate and closed off from our environment," he told the participants. "... The idea that everything has to be 100 percent pure doesn't have a lot of reason. One way to counteract that in your own home is to cultivate friendly relationships with some of these (living) things."
Once we sealed our jars with a test-tube-looking contraption called an airlock, we took them home to ferment in a cool, dark space for two to three weeks.
When that time was up, it looked rather unappetizing, but after pouring the mixture through a strainer, Jerome was right about the fruit skins—the liquid was a slightly cloudy blush shade of pink. The taste was definitely fruity. During the sake demonstration, he said that making sake is trickier than fruit wine and recommended it for more advanced students.
For more information, find Sweet & Sauer on Facebook or visit sweetandsauer.co.