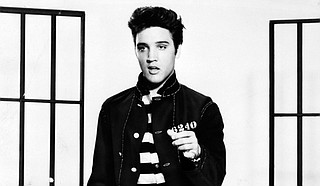 TUPELO, Miss. (AP) — Elvis Presley's Mississippi hometown could create a tourism partnership with the German city where he lived while serving in the U.S. Army.
Tupelo Mayor Jason Shelton is traveling to Bad Nauheim in mid-August for the European Elvis Festival. He told the Northeast Mississippi Daily Journal that he will seek connections between the two cities. Tupelo hosts its own Elvis festival in June.
Presley was born on Jan. 8, 1935, in Tupelo, Miss. In 1945, Presley's elementary school teacher at East Tupelo Consolidated encouraged him to enter a singing contest after hearing Presley sing "Old Shep" in class. The contest at the Mississippi–Alabama Fair and Dairy Show was Presley's first public performance. In 1946, Presley's mother, Gladys Love Presley, gave him his first guitar for his birthday. On Aug. 9, 1953, Presley won a talent show at Humes High School in Memphis, Tenn., with a performance of Teresa Brewer's "Till I Waltz Again with You."
In August 1953, Presley recorded his first demo record at Sun Records in Memphis, which included the songs "My Happiness" and "That's When Your Heartaches Begin." He made a second record with Sun in 1954, which featured "I'll Never Stand In Your Way" and "It Wouldn't Be the Same Without You." Presley signed on with RCA Records in New York City in 1955 and released his first number one single, "Heartbreak Hotel," and his first number one album, "Elvis Presley," in 1956.
From 1958 to 1960, the king of rock 'n' roll lived in Bad Nauheim, near Frankfurt in what was then West Germany. Presley was stationed at Ray Barracks in the town of Friedberg but rented a three-story house off-base in Bad Nauheim and stayed there with his father, grandmother and members of his entourage. The cover photo of his 1959 album, "A Big Hunk o' Love," was taken in Bad Nauheim.
While stationed in Germany, Presley met his future wife, Priscilla Beaulieu. The couple married in 1967 and had a daughter, Lisa Marie Presley, in 1968. They later divorced in 1973.
Presley died of heart failure related to drug addiction at age 42 on Aug. 16, 1977, at his Graceland mansion in Memphis.
The Jackson Free Press contributed to this story.