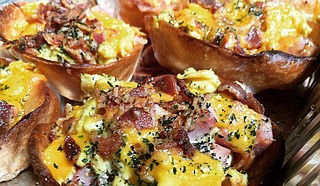 I'm always looking for ways to reinvent and elevate some of my favorites. These breakfast taco boats are perfect for people of all ages, and versatile enough for any meal of the day. You can customize them with any of your breakfast favorites, or do deep-dish-pizza boats. This is an easy way to please even the pickiest eaters.
Breakfast Boats
Makes six boats
Ingredients
Six jumbo eggs
1/2 cup of milk
1 pack of cubed ham
6 pieces of bacon (fried and crumbled)
1 8-ounce bag of shredded mild cheddar
6 flour-tortilla taco boats
1 teaspoon of butter
Salt
Pepper
Parsley
Honey for drizzle
Oil for frying
Directions
Fry the bacon, and remove it from the pan. Put the ham in the bacon grease and fry lightly. Remove and set to the side.
Fry the taco boats in a deep fryer, or if you have a pot deep enough, you can use that. You could also bake them at 350 degrees until they are 
lightly golden brown.
Beat six jumbo eggs with milk, salt and pepper. Remember for good fluffy eggs, beat them really well and get a good aeration, or foam. Cook eggs over medium heat in a preheated pan with a teaspoon of melted butter. Don't overly stir (allow it to cook), and don't overcook, as eggs will keep cooking after you take them off the heat.
Preheat the oven to 350 degrees.
Place the boats on a cookie sheet. Add eggs, and a dash of salt and pepper to each one. Top with ham, then cheese and then bacon. Bake until the 
cheese is melted.
Garnish with parsley and a drizzle of honey.