Wednesday, March 14, 2018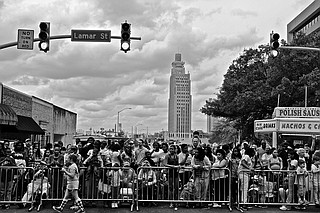 Hal's St. Paddy's Parade (formerly known as the Mal's St. Paddy's Parade) may be a cultural staple of Jackson now, but for residents on their way home from work in 1983, its first iteration was simply the cause of a traffic jam in downtown.
Malcolm White, the current Mississippi Arts Commission executive director and the founder of the parade, organized the inaugural parade for St. Patrick's Day, March 17, which was on a Thursday in 1983. The route started at CS's Restaurant and followed a track that went up Capitol Street and ended on George Street.
"The first one really only had, you know, a couple hundred of my closest friends, and a crowd at CS's and a crowd at George Street," he says.
White moved to Jackson in 1979 and became the manager of George Street Grocery, now Ole Tavern on George Street, about a year later. During his time in that business, he began hosting St. Patrick's Day parties.
"They were very successful, and there was obviously a lot of interest in St. Patrick's Day in Jackson that was sort of pent up," White says.
He had grown up on the Mississippi Gulf Coast and lived in New Orleans for a time, and developed a love for Mardi Gras and cultural celebrations of all kinds.
"When I came to Jackson in 1979, there weren't any," he says. "It was a very buttoned-up, straight-laced, conservative community where people raised their families and worshipped, went to school, and then they went somewhere else for fun. 
 "There were no festivals, no music. It was just a big ole country town that was the center of commerce and medicine and law in the state of Mississippi."
White wanted to bring fun to the area, he says, so he began booking bands, festivals and other activities. After a while, he considered organizing a big St. Patrick's Day event. His initial idea was to do a pub crawl from CS's to George Street Grocery. "But there weren't any other pubs," he says. "There were only like four bars in Jackson."
On top of that, the bars' spread-out locations made a pub crawl impossible, he says. From there, the idea evolved into hosting parties at both CS's and George Street Grocery, and having participants march between locations.
"The more people I talked to and the more I thought about it, the more interested I got in an actual parade," White says.
In all his planning to ensure a fun experience, he forgot the little details—namely, the influx of after-work traffic.
"There were thousands of people who drove into downtown at 7:30 (a.m.) and drove out at 5 o'clock everyday, and there we were, parading right through the middle of this," he says. "... There were thousands of people held captive, and they were honking their horns and waving at us, and we thought it was adoration. It turns out they were angry.
"... There were people in pick-up trucks and convertibles and on roller skates, and they marched. It was just this sort of gaggle of goofy friends of mine who thought this sounded like fun."
The commotion made headlines in the local news.
"Being a promoter, I saw this as an opportunity to really get people fired up," White says.
The organizers milked the story as long as they could, he says, talking with members of the media and the public about topics such as which day the parade should be on (not a Thursday) and city permits. Then, he began making plans for year two.
Over more than three decades, Hal's St. Paddy's Parade & Festival has grown tremendously in its attendance and its impact on downtown. Although it is hard to get a head count, White says he estimates that nearly 75,000 people attend the parade each year now.
While bringing a fun event to Jackson is still at the center of the event, he says that part of the parade's mission is also to tell the story of downtown.
"We've stayed downtown deliberately," he says. "... We don't want to go anywhere else. We're committed to downtown."
For many people who live in the metro area and elsewhere around the state, they only see downtown Jackson once a year—at the parade—he says, so the organizers want to use the event to show how the area is changing.
"A lot of people wouldn't know the King Edward (Hotel) had been revitalized if they didn't come for the parade," he says. "They wouldn't know that we've two-laned Capitol Street. They wouldn't know (about) the arts district or the Westin or Cathead Distillery. They don't know because they don't come down here."
White says this year's parade theme, "Artfully Alive at 35," honors the 50th anniversary of the Mississippi Arts Commission, as well as the parade's grand marshal, V.A. Patterson, who spent her professional life as an arts administrator. On top of running organizations such as the Craftsmen's Guild of Mississippi and nonprofit Very Special Arts, she was also at the first parade as one of the founders of the Krewe of Kazoo (see page 3).
"When I decided that I wanted to name V.A. the grand marshal, and I was thinking about our giant anniversary of the 35th year," White says. "I thought, 'I'm the director of the arts commission, V.A.'s worked in the arts, I love the word 'Artful,' as in (my book) 'The Artful Evolution of Hal & Mal's,' I just love using the word artful. It reminds people of the importance of the arts.'"
White says that in his work as executive director of MAC and in his work as a promoter of Jackson and Mississippi, it's his job to highlight the good parts of the state—the art, the music, the literature.
"Mississippi and Jackson have this amazing story to tell about arts and culture, and our role in the American cultural landscape," he says.
Parade Schedule
by Amber Helsel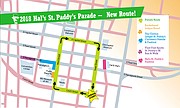 Friday, March 16
5 p.m.: HAL's Marching MALfunction & Second-Line Stomp, Cathead Distillery (422 S. Farish St., 601-667-3038)
Saturday, March 17
7 a.m.: Float lineup, corner of Court and State streets
8 a.m.: Fleet Feet St. Paddy's 5K, Pascagoula Street in front of the Jackson Convention Complex (105 E. Pascagoula St., 601-960-2321)
9 a.m.: Children's festival, Pascagoula Street in front of Thalia Mara Hall (255 E. Pascagoula St., 601-960-1537)
10 a.m.: Pet parade, corner of West and Pascagoula streets
11 a.m.: Children's parade, corner of West and Pascagoula streets
1 p.m.: Hal's St. Paddy's Parade, corner of Court and State streets
After the parade: Hal's St. Paddy's Festival
Tickets to the festival are $10, and attendees must be 18 or older. The gates open at 
1 p.m., and music begins at 2:30 p.m. For more information, visit halsstpaddysparade.com.
Things to Note
The Pearl Street bridge will close at 9 a.m. on March 17.
The route starts at State and Court streets but will first go down the right-hand side of Court Street instead of going down State.
Police will block off Pascagoula Street on the night of March 16 and Lamar Street on the morning of March 17.