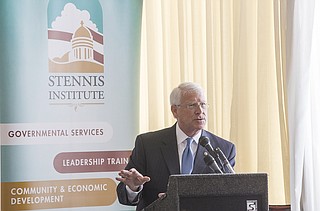 JACKSON — Mississippi's junior U.S. senator, Roger Wicker, says President Donald Trump acted in accordance with the Constitution when he ordered missile air strikes on a Syrian air base last Thursday—but that hundreds of thousands of Syrians have died from chemical and barrel-bomb attacks in recent years in a conflict he calls "complicated."
Wicker told the Stennis Press Forum on Tuesday that sarin gas and chemical weapons are both forms of weapons of mass-destruction, the use of which is a "red line" allowing the U.S. to act on its vital national security interests.
"That was the red line that I think was crossed during the Obama administration that unfortunately we didn't take strong action on, and that was the red line that was crossed that made the difference with President Trump. But we should also know this: sarin gas, chemical weapons during the course of this war have killed approximately 1,500 innocent civilians," Wicker said on Tuesday.
Wicker has vocalized his support for more action from the U.S. on Syria in the past, and in 2016, he was calling for "decisive action" to be taken against Syrian President Bashar Assad.
Trump said last week that ordered the strikes in response to Assad's alleged use of chemical weapons attack on citizens, leaving almost 90 people dead on April 4, the Associated Press reported.
"Using a deadly nerve agent, Assad choked out the lives of men, women and children. It was a slow and brutal death for so many—even beautiful babies were cruelly murdered in this very barbaric attack. No child of God should ever suffer such horror," Trump said at a press briefing Thursday night. "Tonight I ordered a targeted military strike on the airfield in Syria from where the chemical attack was launched. It is in this vital national security interest of the united state to prevent and deter the spread and use of deadly chemical weapons."
Senior administration officials believe the symptoms of the victims in the attack are consistent with "nerve agent and sarin (gas) exposure" a background press briefing from the White House from April 11 shows.
Wicker also pointed out that hundreds of thousands of Syrians have died in the country's long civil war from the use of barrel bombs, which has resulted in no action from the U.S.
"It's a fine line, and it's something that we wrestle with. Know this, Syria is complicated. We want to defeat ISIL. Guess who else wants to defeat ISIL? Bashar Assad wants to defeat ISIL. We know Assad is a war criminal, and my fondest wish is that someday Assad will be in life imprisonment somewhere for being a war criminal because he is," Wicker said.
"In the meantime, he is a client of Russia and Iran, and we wish Syria was led by somebody other than Bashar Assad. And we see what happened in Libya, and we know we better be careful. So I hope it's alright with all of you if we let these experts whose names I've read (Secretary of State Rex Tillerson, Secretary of Defense Jim Mattis, etc.) if we let them be a little bit cautious about our next step in Syria because it is complicated."
Trump's retaliation against Syria created ripple effects this week. The United Nations attempted to pass a resolution Wednesday to condemn the chemical weapons attack in Syria and authorize an investigation, but Russia voted against the resolution, effectively blocking it, the Associated Press reported. This morning, BBC News reported that President Assad said reports that chemical attacks by his forces were a "100 percent fabrication."
Asked about strategies going forward, Wicker said Tuesday that it would have been easier if the U.S. had "shown a little more muscle three years ago." He aligned himself with Sen. John McCain, R-Ariz., in advocating for safe areas where civilians could stay safe from bombings.
"I had a fairly unsatisfactory exchange with General (Joseph) Dunford, the chairman of the Joint Chiefs of Staff, back during the waning months of the Obama administration, and he told me in testimony that to clear the skies and prevent the barrel bombing of civilians would require us to go to war with Russia," Wicker to the Stennis Press Forum on Tuesday. "Now I don't think so, because other people that I've talked to—and I have respect for General Dunford—but other people I've talked to say there are other ways to do this."
Wicker said missile strikes like President Trump authorized last week do not require Congressional approval, but he said if anything of a larger scale, like sending troops to war, was necessary Trump would need to come to Congress.
"I don't see that happening, but I do think the people in the region want a little more American leadership than we have in previous years," Wicker said.
Email state reporter Arielle Dreher at arielle@jacksonfreepress.com and follow her on Twitter at @arielle_amara.