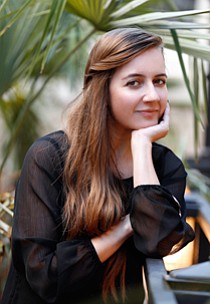 News Reporter Arielle Dreher is working on finding some new hobbies and adopting an otter from the Jackson Zoo. Email her story ideas at arielle@jacksonfreepress.com. Follow her on Twitter at @arielle_amara.
Recent Stories

The Grenada, Miss.-based attorney who sued Gov. Phil Bryant over the Confederate flag in the canton of the Mississippi state flag is now targeting Rep. Karl Oliver, R-Winona, whose calls for lynching over removal of Confederate statues last week made national headlines.

Most Republican leaders have distanced themselves from Rep. Karl Oliver, R-Winona, who made national headlines for a Facebook post that called for the lynching of leaders in Louisiana who support the removal of Confederate monuments, but the fight to change the state flag continues.

The fight to fully fund the Mississippi Adequate Education Program continues in the courtroom, as two Democrats filed a lawsuit against the governor, the state fiscal officer, the Mississippi Department of Education and the state treasurer.
Vision to Learn, a Los Angeles-based foundation that aims to screen all children for eyesight problems, has partnered with Jackson Public Schools to screen nearly 27,000 students in the district.

Four mothers with children in majority-black school districts and schools rated "D" or "F" are accusing the State of Mississippi of violating a law requiring "uniform system of free public schools."

House Speaker Philip Gunn stripped Rep. Karl Oliver, R-Winona, of his vice-chairmanship today after Oliver's Facebook post Saturday, which said those supporting the removal of Confederate monuments in Louisiana "should be LYNCHED!"
Rep. Karl Oliver posted on Facebook that those taking down Confederate statues "should be LYNCHED!" He later apologized, but many are calling for his resignation.

The fight to fully fund the state's education funding formula had its day in the Mississippi Supreme Court on Wednesday. Former Gov. Ronnie Musgrove told the court that the Mississippi Adequate Education Program must be fully funded in order to follow state law as it is written.

Lisa Fuller, a Mississippi mother of two in Madison, stood up at the Children's Mental Health Summit at the Jackson Hilton on May 12 to explain her laborious journey of finding care and support for her two daughters: one who has high-functioning autism and the other who has anxiety and depression disorders.

I used to think Jackson is boring—and it's not," Tasha Rollins says. She has seen Jackson change as she grew up, but she says that it still has that kind of small-town vibe that she's grown to love.