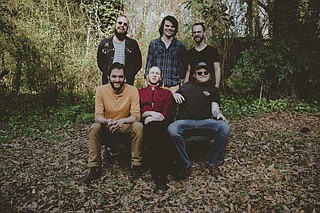 Making a record doesn't come cheap—even after the actual recording is done.
As the members of Jackson alternative-country band Young Valley put the final touches on their upcoming sophomore album about three months ago, they began brainstorming how to raise funds to distribute and promote the release.
"Tons of people do GoFundMes and Kickstarters, stuff like that, and that's cool, but we wanted to do something a little more interactive," lead guitarist and vocalist Dylan Lovett says. "It's kind of like our friends Lucero do in Memphis with a block party kind of deal, and American Aquarium (does) it in Raleigh. It's just a cool thing, and we thought about it like, 'Man, a band should do a similar thing in Jackson.'"
That idea grew into the Young Valley Rock 'N' Roll Barbecue, an outdoor festival that takes place Saturday, June 10, on the Fondren Corner parking deck. The band, which also includes Lovett's brother, acoustic guitarist and vocalist Zach Lovett, drummer and vocalist Spencer Thomas, bassist Ethan Frink, pedal-steel guitarist Kell Kellum, and keyboardist and fiddle-player Phill Thompson, hopes to make it an annual event.
While a "rock 'n' roll barbecue" wasn't the musicians' only fundraising idea, Dylan says it stuck with them and felt like an opportunity to make something that they and their friends would want to attend.
"It just kind of describes what our music is for," Thomas says. "It really came with trying to come up with a catchy name for it. 'Young Valley Rock 'N' Roll Barbecue!' We just kept saying it over and over again, and we were like, 'I like that.'"
"It sounds like some crazy car-dealership thing," Zach adds with a laugh.
In addition to Young Valley, the music lineup will include Mark Roemer and Jamie Weems, TB Ledford and the Accumulators, European Theater and El Obo. The event will also feature a silent auction with items from local businesses such as Deep South Pops, Briarwood Wine & Spirits, Studio Chane and The Pet Shop of Fondren, to name a few. Nathan and Tim Glenn, the owners of Rooster's, Basil's and The Feathered Cow, will provide food, and Sneaky Beans owner Byron Knight will provide the sound and stage equipment.
The fanfare isn't just for the band's benefit, though. The musicians will be donating a portion of the proceeds to the Muscular Dystrophy Association, a nonprofit that Dylan says has become near and dear to them since doctors diagnosed him with muscular dystrophy in January 2016.
"We're building a community to get behind something else other than just the music, bringing awareness to two things at one time, which is awesome," Zach says.
"Hopefully, we can just continue to give back more and more as we grow and are able to," Thomas says. "Maybe five years down the road, the fifth annual Rock 'N' Roll Barbecue, we'll have a big check that we'll bring on stage. This is our first time, so it's kind of a big troubleshoot, learning-experience journey of putting on an event, basically putting on a small festival."
The goal of this year is to push the band toward its goal and set the groundwork for what the festival is—a community-focused event that's welcoming to everyone. The response that it has received has been overwhelming, Thomas says.
"Every business that we wanted to be involved said yes with no hesitation, and that feels so special to the three of us," he says. "Just that (response) like, 'We know. We see you come to our place, we go see you, so if that's what you're doing, whatever pushes you up.'"
The Young Valley Rock 'N' Roll Barbecue is from 5 p.m. to 11 p.m., Saturday, June 10, at Fondren Corner (2906 N. State St.). Tickets are $15 in advance and $20 the day of the show, and include food and one beer. Admission is free for ages 10 and under. Visit youngvalleymusic.com.